Posted on Sunday 14th October 2018 at 8:18 pm by SH (Editor)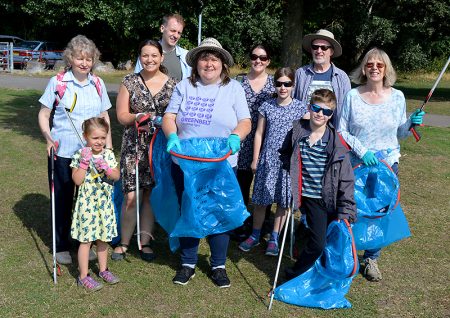 When local resident Jenny James discovered that the group known as the Friends of Meade Park no longer existed, she decided to revive it. As someone who regularly walks through the park, she felt it was important to have a group of people who monitor and take care of the green space, alongside Stoke Gifford Parish Council.
Jenny began by creating a Facebook page for the group, which now has over 200 'fans'. She said:
"The Facebook page has become a real part of the community. There has been a lot of interest in the group and the page provides a place for people to report damage and share their ideas for the park."
The Friends of Meade Park group then sent out a survey to local residents to find out what people would like from the park and they organised their first community litter pick on 4th August. Jenny was extremely pleased with the turnout as around 15 people, including numerous families, attended the event. Stoke Gifford Parish Council provided all of the equipment, including gloves, bags and pickers and the local Co-op gave the group free bottles of water. In the space of a few hours, the pickers had collected enough litter to fill ten refuse sacks making a huge difference to the cleanliness of the park. As the litter pick was so successful, Jenny is planning on organising them at regular intervals throughout the year.
Jan Brunwin, who helps Jenny with the group, said:
"It was a very successful event with many families coming to help. It was a great opportunity for children to understand and learn how to take care of their environment."
More: Group to hold opening meeting on Tuesday 16th October »
Share this article:
Discussion is open - be the first to comment - click here to respond.