Posted on Tuesday 31st January 2012 at 9:14 am by SH (Editor)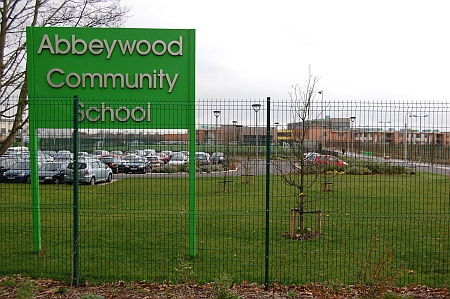 Stoke Gifford's Abbeywood Community School has been placed into special measures by Ofsted.
The school, formerly known as Filton High, was visited by inspectors at the beginning of December and their report was sent home to parents/carers yesterday (Monday 30th January).
Ofsted had previously served the school with "notice to improve" following an inspection in October 2010. A monitoring inspection in May 2011 concluded that "satisfactory progress" was being made but the school suffered a setback in October 2011 when headteacher Ann Duff left suddenly – to be replaced by Dave Baker of Bradley Stoke Community School.
In the latest report, lead inspector Karl Sampson says the school has not been providing an acceptable standard of education, adding:
"The curriculum and systems for providing care, guidance and support do not meet the learning needs of all students."
South Gloucestershire Council's Director for Children and Young People, Therese Gillespie, said:
"While we are disappointed with the outcome of the recent inspection at Abbeywood Community School, we have full confidence in the current leadership of the school to bring about the necessary improvements.
More: Parents/carers called to meeting next Monday evening »
Share this article: