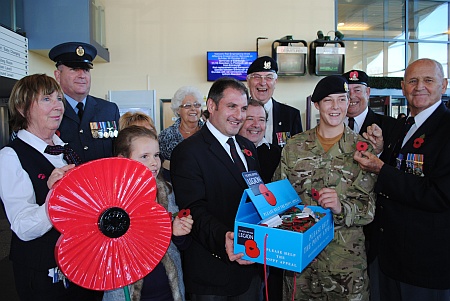 The Stoke Gifford Branch of the Royal British Legion has been recognised as the best achieving 'small' branch in the County of Gloucestershire.
Branch Chairman Brian Hewtt MBE said:
"Four Members of Stoke Gifford Branch recently attended the Royal British Legion Annual County Conference, 2012, held at Barnwood, Gloucester."

"When it came to the presentation of awards, we were all absolutely delighted when I, as Chairman, was called forward to receive the Marling Cup, for the best achievement of a small branch during 2011."

"We had a wonderful year in 2011, collecting £39,814 in 12 months for the Poppy Appeal; our Welfare Committee have visited 143 cases of Serving and Ex-Service and their dependants in 'need'; visits have been made to eleven schools in our area and we have recruited nine new members."
Branch Publicity Officer David Bell added:
"The branch is delighted to receive this award. It was achieved because of the hard work of its members, collectors, etc and also because of the generosity of the public and the help of various venues across the area who allow us to collect for the Poppy Appeal."

"We are also very grateful to the local media for helping us to promote the Poppy Appeal and the work we do supporting those current and former service personnel and their families who need our support."
During the period up to Remembrance Sunday, Stoke Gifford Branch (which covers Little Stoke, Stoke Gifford, Bradley Stoke and Filton) had shifts of collectors at the Bradley Stoke Willow Brook Centre, Bradley Stoke Aldi, Stoke Gifford Sainsbury's, and Parkway Station. It also had many static tins at a number of venues around the area.
One big hit of the Poppy Appeal were the knitted poppies that a number of branches had available. In Stoke Gifford a team of knitters provided over two thousand knitted poppies for the branch's Poppy Appeal. They were an instant hit and the branch couldn't keep up with demand!