Posted on Thursday 29th March 2012 at 11:56 pm by SH (Editor)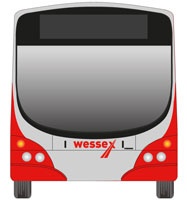 Little Stoke looks set to lose three of its bus services within the next two months following the announcement that Wessex Connect is to withdraw the U7, U8 and 482 from Sunday 20th May.
The U7 is a daytime and evening service operating between Cribbs Causeway and the Frenchay campus of the University of the West of England (UWE). In Liitle Stoke, it runs along Stoke Lane and Braydon Avenue before heading south to Parkway Station.
The U8 is a peak hours only service between Bradley Stoke North and Bristol city centre, which travels along Braydon Avenue and Stoke Lane before heading south down the A38 Gloucester Road towards Filton.
The 482 operates between Cribbs Causeway and Chipping Sodbury via Winterbourne – also passing along Stoke Lane and Braydon Avenue.
The axing of the U7 and U8 comes just ten months after Wessex Connect introduced them as a replacement for the former 71 and 72 services, which ran hourly throughout the day and also served Little Stoke Lane, Kingsway and Gipsy Patch Lane.
The latest cuts will leave the hourly, daytime-only, 312 Thornbury to Fishponds service as the only one running along Braydon Avenue, following the earlier withdrawal of First Bristol's 73A service in September 2010.
Wessex Connect's withdrawal of the 71 and 72 created a storm of protest when it was announced last summer, culminating in heated exchanges at a well-attended meeting of the Southern Brooks Area Forum in Filton on 30th August.
The operator says it has been forced to make the latest cuts because of the challenges it faces in the current economic climate, citing continued cost increases and "limited opportunity to increase existing revenue without extortionate price increases".
The bus company's press statement justifies the move as follows:
"Following the recent decision by the Chancellor to continue with the Fuel Duty Rate increase planned for August 2012, along with the reduction in Bus Service Operator's Grant by 20% from April 2012 and current increasing fuel costs, we have reviewed our network of services and ability to operate services within the current climate."

"Discussions are taking place with local authorities in relation to these service withdrawals and should any agreement be reached for a continued operation of service(s), we will of course advise our customers accordingly. Wessex apologises for any inconvenience this may cause to our customers, however this is brought about by circumstances beyond our control."
South Gloucestershire Council said it had no money to subsidise a replacement service for the 71 and 72 and it is now saying the same about the U7, U8 and 482, according to an email seen by the Bradley Stoke Journal. A Transport Officer writes in response to a concerned resident:
"As you are aware from the situation from the withdrawal of the 71/72 services there is not sufficient budget to replace these services but we will be in discussions with operators to investigate alternatives but cannot guarantee they will be in place before these services cease to operate."
More information about the latest round of bus service cuts: Bradley Stoke South set to lose all daytime bus services (Bradley Stoke Journal)
Share this article:
Tags: bus, Wessex Connect