Posted on Monday 14th May 2012 at 9:42 pm by SH (Editor)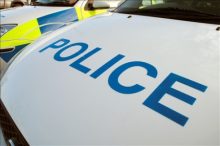 Police have issued an appeal for help to trace a missing teenager from South Gloucestershire.
Lauren Walker, aged 15, from Stoke Gifford, was last seen at 10:30am yesterday morning (Sunday 13th  May). She later contacted relatives to say she was in St Pauls in Bristol.
Lauren is described as a white teenager, about 5ft 6ins tall of medium build with short distinctive coloured purple hair. She has a slight scar under her right eye and has a tattoo with the name Grandad on her right wrist.
When she went missing, Lauren was wearing a black jacket over a blue coloured top. She was wearing black leggings with the image of the face of a tiger on one of the legs.
Police believe that Lauren could still be in Bristol or may have travelled further afield to South Wales or possibly Berkshire.
They are keen to contact Lauren and have appealed to anyone spotting her, or for Lauren herself, to contact them to confirm she is safe and well.
Anyone able to help is asked to contact South Gloucestershire CID on the force number 101.
A photograph of Lauren can be viewed here on the Avon and Somerset Police website.
UPDATE (Wednesday 16th May 2012):
Police say they are now also looking for information about a man the missing teenager  may be with.
Officers believe she is with Jason Stephens, aged 28 [photo].
Jason is described as a white man, of a slim build, around 5ft 8inches tall with dark short hair.
He is asked to come forward and advise police of his and Lauren's whereabouts as there are concerns for both of them.
Share this article:
Tags: missing person