Posted on Friday 15th June 2012 at 5:52 pm by SH (Editor)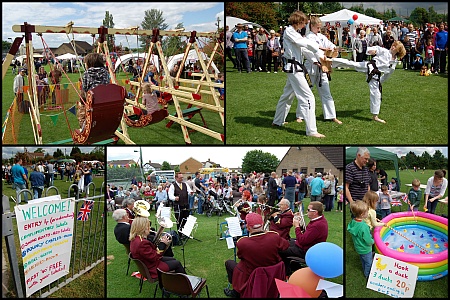 The local community came out in force to celebrate the Queen's Diamond Jubilee at the recent Stoke Gifford Fête held on Monday 4th June.
An article on the Stoke Gifford Parish Council website reports:
"The event was a great success an a good afternoon was had by all. The event was organised by the Stoke Gifford Trust Committee with support from the Parish Council and could not have taken place without the help of a number of volunteers on the day."
Entry to the event was just one pence and all visitors were treated to free refreshments and one free "go" on an activity (swing boats, bouncy castle, quad bikes or archery).
Music was provided by the Westerleigh Brass Band and the crowds were further entertained by a dog show (at the top end of the field) and a Taekwon-Do demonstration.
Prizes were awarded for the best original Jubilee hat, the best Jubilee flower arrangement and the best Jubilee model, and the day was rounded off with a prize raffle.
Ernie Brown, Chair of Stoke Gifford Parish Council, told The Journal:
"Personally, I thought it was a great success and something for the Council to build on in the future. The aim of the event, in this time of austerity, was for the Parish Council and Trust to give something back to the parishioners. It was great to see the community enjoying a great day out. I understand that the attendance was approx 2,500."
The Journal understands that the Parish Council contributed £1,500 towards the event (TBC).
The Parish Council says it hopes to organise further (and regular) events for the community and a consultation will be launched at the forthcoming Annual Public Meeting on Tuesday 19th June (7:30pm start), at St Michael's Church Rooms Cafe, to explore possible ideas.
More photos from the Diamond Jubilee Fête on PicasaWeb.
Share this article: