Posted on Tuesday 9th October 2012 at 1:01 pm by SH (Editor)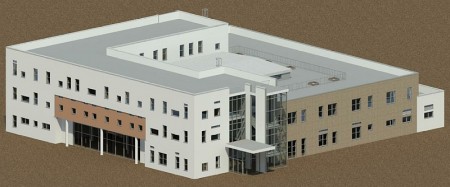 A new University Technical College (UTC) due to open in New Road, Stoke Gifford, next year has appointed its first Principal.
The Bristol Technology and Engineering Academy (BTE Academy) is due to open in September 2013 with an intake of up to 120 students in Year 10 (14 year olds) and 60 in Year 12 (16 year olds). Once fully operational in 2016/17, the Academy will have 440 students and 33.5 full-time equivalent staff.
The Academy will recruit young people from across Bristol, South Gloucestershire, Bath and North East Somerset who are interested in a career in the engineering or environmental technology sectors.
Students will study GCSEs and A-Levels in a range of academic subjects including maths, science, English and languages combined with practical and technical qualifications in engineering, environmental science, ICT and business.
Speaking about her appointment, the new Principal Rhian Priest said:
"The BTE Academy is a brand new type of school, the first of its kind in the West of England and one that will provide a unique learning opportunity for young people. Specialising in engineering and environmental technology, students will learn in a vibrant and exciting setting that encourages and develops independent thought, self-discipline, motivation and confidence."

"The curriculum and learning techniques will combine theory with practical, project-based activities and will be enhanced through our strong links with industrial sponsors, GKN Aerospace and Airbus and our educational sponsors, the University of the West of England and City of Bristol College."
Enrolment is now open for the Academy and a series of information events have been announced where young people and their parents/carers will be able to find out about the curriculum and learning opportunities the Academy can offer. The first event in North Bristol takes place at the Bristol and Bath Science Park, Emersons Green, on Thursday 6th November. Further details of all the events can be found here on the BTE Academy website.
The new Academy will occupy part of the site of the former Filton High School, which was demolished following the opening of Abbeywood Community School.
It will stand alongside a new Engineering Department building that is being built for City of Bristol College (CoBC), which also operates the nearby Parkway Transport Technology Centre.
The Transport Technology Centre  is also being expanded and once both projects are complete, the two CoBC buildings will together cater for 520 students (compared to 196 at present).
Groundwork for the new Engineering Department building has recently commenced but work is yet to start on the site for the BTE Academy, planning permission having only been granted on 13th September.
Having previously informed SGC that it hoped to obtain planning permission in August, the organisations behind the Academy now face a race against time to complete the building in time for the first intake of students next September.
Photo: Work gets underway on City of Bristol College's new Engineering Department building on the site of the former Filton High School in New Road, Stoke Gifford. The BTE Academy is due to be constructed on adjacent land to the immediate right-hand side of this view. [see sketch]
Related link: Schools & Colleges in Stoke Gifford (The Journal)
Share this article: