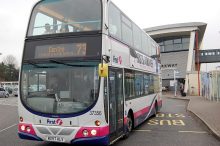 First Group has introduced a number of new late night journeys on its number 73 Bristol City Centre to Cribbs Causeway route, thereby bringing a "night bus" service to Stoke Gifford for the first time in several years.
Operating via Gloucester Road and Filton Avenue en route to and from Bristol City Centre and Bristol Parkway Station, the 73 is already very popular with bus users, and particularly those young people living and studying at the University of the West of England (UWE) Frenchay campus.
Since 4th November, three additional late night journeys from Bristol City Centre – at midnight, 1am and 2am – and two journeys from Bristol Parkway Station – at 12:30am and 1:30am – have been running, providing opportunities to travel much later than ever before.
The extra late night services run six nights a week, Monday to Saturday.
Talking about the new journeys, Marc Reddy, Regional Commercial and Business Growth Director for First in the South West and Wales, said:
"We have created these journeys in order to respond to demand for our services. We expect customers to welcome them as they give them even more opportunities to travel. For instance they make it much easier for people to go out in Bristol City Centre and return home later, or conversely allow those arriving late into Bristol Parkway Station by train to complete their onward journeys by bus much later into the night."

"For those who want to use the FirstNight ticket as a means of getting in and out of town, it also means that they now have the potential to get both in and around the city centre and home again as late as 2am, for just £2.90."
The FirstNight ticket was launched in April 2012 to give customers unlimited travel on the company's buses after 7pm (until 4am the next morning) for just £2.90.
The initiative has been welcomed by local residents, including Stoke Gifford Journal reader Mark Jones, who contacted us to say:
"Since the last night bus to Stoke Gifford stopped running, the nearest you could get a bus in the early hours (to save a £30+ taxi fare) was using the N1 to the King George on Filton Avenue, which is a good half hour walk, and not nice in the cold wet winter!"

"We need to make people aware of this bus so that they use it, otherwise First will no doubt again remove this late night route."
Readers of the Bradley Stoke Journal, however, have criticised the fact that the extra journeys start/terminate at Bristol Parkway and therefore don't serve the remainder of the 73's normal route through Bradley Stoke and Patchway.
Related links: