Posted on Wednesday 5th December 2012 at 5:35 pm by SH (Editor)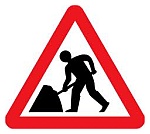 Pavements in three Stoke Gifford Roads are set to be repaired in 2013/14 after the Southern Brooks Area Forum agreed they should be made a priority in South Gloucestershire Council's highways maintenance programme.
Councillors on the Area Forum, which covers Bradley Stoke, Filton, Frenchay, Stoke Park, Patchway, Stoke Gifford and Winterbourne, were given £60,000 to allocate to maintenance schemes in their area and three Stoke Gifford schemes were chosen, along with four from other areas, from a list of 43 candidates.
The pavement on a section of Chalcombe Close (off Braydon Avenue, Little Stoke) will be reconstructed at a cost of £6,500. The section affected is between house numbers 22 to 27 and the work will involve removing some or all of the structural layers of the pavement and replacing it with new material, including new surfacing.
Footpaths in Court Avenue and Couzens Place (both off North Road) will receive a 'slurry seal' treatment, in which a thin layer of slurry emulsion is laid on the existing surface to seal cracks and restore texture, at a cost of £3,840 and £1,020 respectively.
Other road or footpath repair schemes granted funding at the meeting included two in the Filton ward and one each in the Winterbourne and Frenchay & Stoke Park wards.
The Council's main highways maintenance programme for 2011/12 included a scheme to resurface a section of North Road, from the Hatchett Road junction to house number 112.
The main programme for 2012/13, approved earlier this year, includes micro asphalt resurfacing of Farley Close and Stratton Close (£24,000) and footpath resurfacing in Little Stoke Lane, between Kingsway and Rossall Avenue (£6,300), and Somerset Crescent (£2,160).
More info: List of schemes considered by the Area Forum (SGC) [PDF]
Share this article: