Objections to proposals to replace priority narrowings in Little Stoke Lane with a series of full-width raised tables are to be considered at a Council meeting this week.
South Gloucestershire Council's Planning, Transport & Strategic Environment (PTSE) Committee, meeting in Kingswood on Wednesday, will consider three objections to the Traffic Regulation Order (TRO) that was advertised between 20th November and 13th December last year, along with one letter of support and another that asks for formal crossing points to be introduced as part of the scheme.
The Council is proposing to install a series of six raised tables, five of which replace priority narrowings, with a sixth positioned close to Giffard House.
The scheme was drawn up after some local residents complained that the existing priority narrowings encourage aggressive driving. The Council also claims the raised tables will be "less onerous to buses", which has allowed it to secure funding of £150k from the Local Sustainable Transport Fund.
An earlier public consultation on a package of proposed traffic calming measures in Little Stoke Lane was held from 30th July to 31st August 2012. Other aspects of the scheme include amendments to the school entrance markings for Little Stoke Primary School and the introduction of a 20mph zone covering Maple Close and a length of Little Stoke Lane either side of the Maple Close junction.
Some 16 responses were received to the original consultation, although the Council failed to publish the results before the subsequent consultations on the TROs began on 20th November 2012. A summary of the consultation responses was added to the SGC website on 27th November 2012, although an officer analysis of those responses has only appeared this week – in a report attached to the agenda of the upcoming PTSE Committee meeting.
Councillors have been recommended to approve the complete scheme and officers are clearly confident that they will, as another recently-published agenda report on the SGC website discloses that "works on site are due to start on 4th February 2013".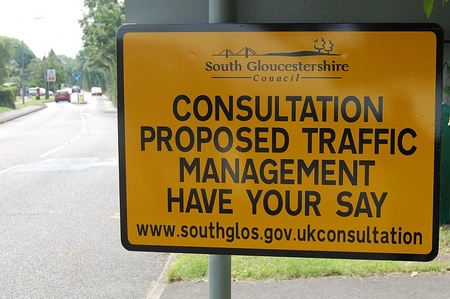 Photo: Sign advertising the original public consultation, held last summer.