Posted on Monday 17th June 2013 at 3:46 pm by SH (Editor)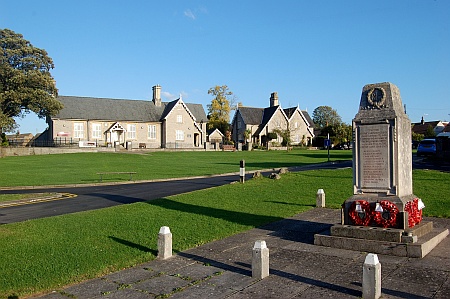 Hundreds of people will be taking part in a special service outside St Michael's Church, Stoke Gifford at 11am on Sunday (23rd June) to celebrate more than 150 years of serving the community.
The open-air service will take place on The Green (pictured above), mid-way between the church and the former Victorian school room which is now a church and community centre.
The Old School Rooms, which date from 1863, were originally built to house St Michael's School, at a time when Queen Victoria was on the throne and Stoke Gifford had just a few hundred residents.
The school, which today has more than 580 pupils, moved to new premises in Ratcliffe Drive in 1988 and the old building is used by St Michael's Church to serve a population of around 12,500.
Hundreds of past and current pupils and their teachers are expected to attend the celebration, which is being hosted by the church and primary school. The service will include songs and stories about school life, Victorian hymns and a prize for anyone who comes in Victorian dress.
In 1988 after serving as Stoke Gifford's primary school for 125 years the old school building reverted back to St Michael's Church and has continued to serve the community. The following year a pre-school was launched, which has since expanded and moved to the former Vicarage building.
More: Church's £5.8 million construction project to start next month »
Share this article: