Posted on Friday 23rd August 2013 at 1:32 pm by SH (Editor)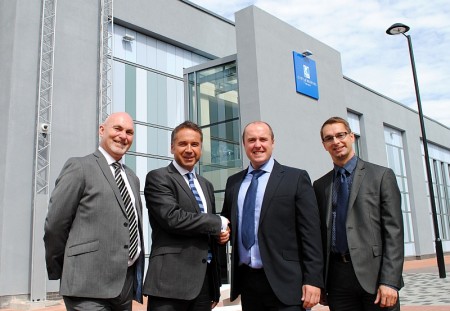 The keys to a significant new Bristol building were handed over on Wednesday (21st August), as City of Bristol College took possession of its new £12m Advanced Engineering Centre (AEC) at New Road, Stoke Gifford.
The keys were handed over by Cowlin Construction after building work at the centre was successfully completed earlier this month.
College staff are now making final preparations inside the building in readiness for when the doors open to learners this September.
The AEC will provide a state-of-the-art learning and working environment for City of Bristol College learners and staff. It will bring together most of the College's existing engineering, aeronautical, manufacturing and automotive courses in one place.
The centre is geared towards equipping learners with the skills and experience they need for employment in the sector. It will provide great industry facilities including workshops, laboratories and testing/diagnostic equipment. It will also provide learners with the latest technology and will house the highest standard of the latest industry equipment, including:
A vehicle brake testing station
An on-site commercial jet aircraft
3D printing
Cliff Shaw, Deputy Principal at City of Bristol College, commented:
"The Advanced Engineering Centre will provide fantastic new state-of-the-art facilities, which will enable learners to gain the skills and qualifications they need to become skilled engineers. The industry standard equipment will help to prepare our students for their next steps into work or further study, and we look forward to welcoming our learners to the centre next term."
Jamie Harwood, Projects Director for Cowlin Construction, commented:
"We are delighted to have worked again with City of Bristol College to deliver a new centre, this time in the north of the city. After the successful opening of the College's South Bristol Skills Academy in 2010, it's been very rewarding to bring another building to life and to play a part in delivering a leading teaching and learning environment for the engineering sector."
The new centre will include the college's former Parkway Transport Technology Centre, which has been refurbished as part of the project.
Cowlin Construction was the main contractor for the project. Also involved was Provelio, project manager for City of Bristol College.
To find out more about engineering courses at City of Bristol College, visit www.cityofbristol.ac.uk
Photo (l-r): Vic Johnson (Centre Manager), Cliff Shaw, Wayne Scammel (Project Manager, Cowlin Construction) and Jamie Harwood (Projects Director, Cowlin Construction).
Share this article:
Tags: City of Bristol College, CoBC Advanced Engineering Centre