Posted on Thursday 28th November 2013 at 1:26 pm by SH (Editor)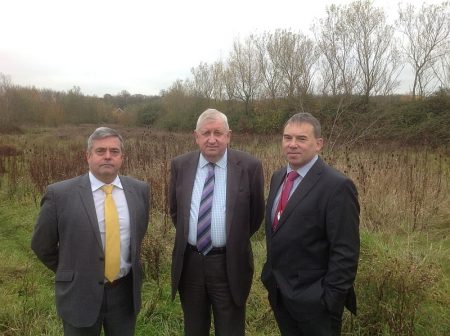 The Leader of South Gloucestershire Council, Cllr John Calway, has slammed the TRASH campaign group for undermining the planned new stadium for Bristol Rovers and UWE in Stoke Gifford.
He made the criticisms whilst standing on the site of the planned new £40 million 21,000+ seat stadium with Bristol Rovers Chairman Nick Higgs and UWE Vice-Chancellor Professor Steven West.
Cllr Calway, who is also Conservative Group Leader and a Longwell Green councillor, said:
"This flagship new stadium on the UWE campus has the potential to be a massive boost for South Gloucestershire, our local economy and for our continuing efforts to secure a local legacy to the Olympic and Paralympic Games."

"We are confident that the new stadium will bring many benefits, not simply better facilities for supporters but also academic and local community facilities, and a much better location in relation to public transport, including bus, rail and planned MetroBus rapid transit."

"That's why we have been extremely supportive of Rovers and UWE's plans throughout the development phase and why I am furious with the antics of the TRASH campaign group."

"My message to TRASH is to stop damaging our efforts here in South Gloucestershire to work with UWE and Rovers to secure this unprecedented investment locally and all the economic, cultural and sporting benefits to local people that will come with it."
Photo (L-R): Nick Higgs, Cllr John Calway and Professor Steven West on the site of the planned UWE Stadium.
Source: Press release from the Conservative Group on South Gloucestershire Council.
Editor's note: TRASH has been granted a judicial review of Bristol City Council's decision to grant planning permission for the redevelopment of Bristol Rovers' present ground in Horfield. This has delayed the start of construction of the UWE Stadium, as Bristol Rovers plan to fund the work using proceeds from the sale of their present ground.
Share this article:
Tags: Bristol Rovers FC, UWE, UWE Stadium