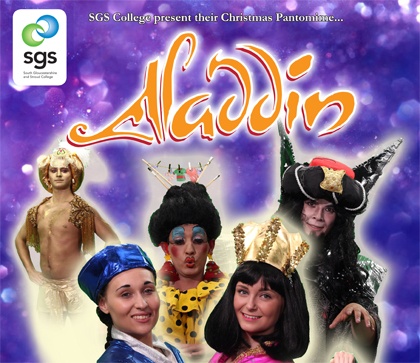 Pantomime comes to South Gloucestershire and Stroud (SGS) College's Olympus Theatre in Stoke Gifford this week when students stage a five-day production of Aladdin.
The genre has always been known for its high level of audience participation, eye-catching costumes, stunning sets and sing-along songs. Now SGS College has produced a pantomime like no other, featuring a cast of highly professional young and talented actors.
The production will be following the original rags to riches story of Aladdin, whose life gets turned upside down when he finds a magical lamp, meeting a princess, a baddie and a raucous dame along the way. However, the story takes on a new twist with a special anti-bullying message. Linking in with the national anti-bullying strategy, the college has created an underlying theme in the production that is suitable for all ages.
Steve Titchmarsh, Head of Department, commented:
"Open to the local community and wider, this is a great alternative to bigger shows whilst still being of the same quality. This year, our degree students are performing throughout. It really will be a spectacular show!"
With a bit of theatre magic, an actual flying carpet, and great ticket prices, this panto is not to be missed. The show runs from Wednesday 10th to Sunday 14th December at the Olympus Theatre located on the WISE Campus in Stoke Gifford. So bring your loudest voices and come join in the fun!
The show will be held at various times throughout the four days. To book tickets online, visit www.ticketsource.co.uk/theolympustheatre. For further details, contact the Production Manager, Fran Hollingworth, on 0117 9192639 or e-mail fran.hollingworth@sgscol.ac.uk.
Source: Press release from South Gloucestershire and Stroud College.