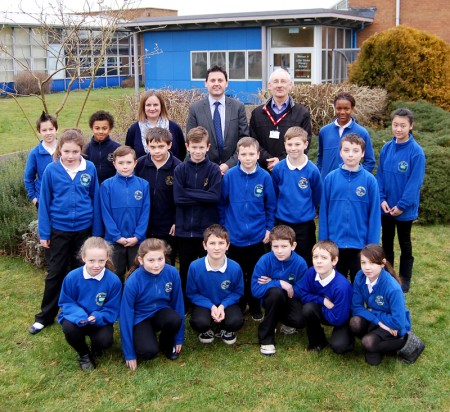 Staff and pupils at a local primary school that was deemed 'in need of improvement' two years ago are celebrating after Ofsted rated it 'good' following its latest inspection in January.
Little Stoke Primary School was graded 'good' for each of the five key judgement themes of leadership and management, behaviour and safety of pupils, quality of teaching, achievement of pupils and early years provision.
The news was welcomed by headteacher Scott Howes, who said the school had been through a "really intense time of change" since the last inspection and had worked closely with the local authority and government inspectors to bring about the necessary improvements.
In a letter to parents, Mr Howes wrote:
"We are pleased to report that the inspectors recognised the significant improvements brought about by the hard working team of teachers, support staff, office staff, governors and leadership team. Ofsted has now graded Little Stoke Primary School as a 'good' school and has identified some excellent features."
Inspectors spent two days meeting pupils, staff, governors and parents, as well as observing lessons and playtime sessions, analysing achievement data and looking at work in pupils' books.
In their report, inspectors comment on the strength of the new governing body and acknowledge that all areas of improvement identified in the previous inspection have been successfully addressed.
Inspectors also commented on the determination of the leadership team to raise standards further by giving all pupils a rich educational experience.
"The variety of subjects taught in the school provides a rich and varied experience for pupils. There are opportunities for pupils to work in different ways and to develop their understanding of other subjects, as well as improving their skills in reading, writing and mathematics. Termly topics bring together aspects of many different subjects and are very effective in inspiring pupils' interests and curiosity."
Mr Howes said staff are particularly proud of the feedback received about the high level of care, safety, shared responsibility and learning ethos in the school.
Noting that the school has a diverse population of children from a variety of backgrounds and cultures, he commented:
"We work hard to promote an understanding of each other and a tolerance of difference. Ofsted noted that disadvantaged pupils made good progress, as do those who speak English as an additional language, those with special educational needs and all pupils from different ethnic backgrounds."
Looking forward, Mr Howes commented that the "job of improving a school for the pupils is never done." Plans are afoot for the school to work towards achieving the Leading Parent Partnership Award, a national scheme that invests in parents for the achievement of pupils.
The school has extensive grounds, which Mr Howes believes could be further developed to enhance the curriculum. There is already an active Forest School, which makes use of woodland within the grounds to provide outdoor learning opportunities in which pupils can learn about the natural environment and develop social and team learning skills. New outdoor play equipment has also recently been installed, with the help of a grant from the National Lottery.
There are also plans to provide more focus on art, dance and drama at the school. A dance club is already up and running and Little Stoke pupils recently took part in a dance festival at Bradley Stoke Community School. The 65 strong pupil school choir, led by the Deputy Head, also presented an impressive school concert at Christmas to the delight of many parents.
The school is also in the process of setting up a new learning zone called 'Jump Start', designed to raise pupils' aspirations. This will call on the high level of skills available within the parent and local industry base, to provide regular workshops for Key Stage 2 pupils in topics as diverse as engineering, photography, financial management and woodcraft.
Mr Howes' letter concludes:
"Parents have shown great support and understanding to the school during the many, sometimes difficult changes. We would like to thank parents for their commitment and we are so pleased that families can feel a sense of pride that their children attend Little Stoke Primary School. We look forward to building on our strengths as we continue to offer your children high quality skills for lifelong learning."
Related link: Schools & Colleges in Stoke Gifford (The Journal)
This article originally appeared in the March 2015 edition of the Bradley Stoke Journal news magazine, delivered FREE, EVERY MONTH, to 9,500 homes in Bradley Stoke, Little Stoke and Stoke Lodge. Phone 01454 300 400 to enquire about advertising or leaflet insertion.