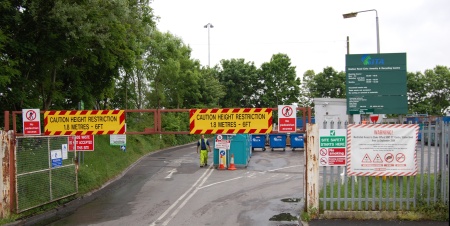 The Stoke Gifford Sort It! recycling centre in Station Road, Little Stoke has been temporarily closed today (Thursday 9th April) following an accident in which an employee of the site operator SUEZ Environment (formerly SITA UK) suffered "serious" injuries.
The incident is understood to have occurred at approximately 9.45am and the injured employee was taken to Southmead Hospital by paramedics. A statement issued at midday described the employee's injuries as "serious, but not life-threatening".
A South Gloucestershire Council spokesperson said:
"A SUEZ Environment employee was unfortunately injured in an accident involving a SUEZ vehicle at the Stoke Gifford Sort It! centre earlier this morning. We have closed the centre whilst the police and SUEZ carry out a full investigation and the Health & Safety Executive has been informed."
A SUEZ Environment spokesperson added:
"The injured employee was in the process of exchanging containers when a collision occurred with a shovel loading vehicle. The incident took place in an area of the site that is off limits to the public."

"While the police enquiries are ongoing, it has been necessary to close the site to members of the public today. We expect that it will reopen as normal tomorrow (Friday 10th April)."

"Anyone wishing to visit the Stoke Gifford Sort It! Centre today should instead use the facilities at Yate, Mangotsfield or Thornbury. We apologise for any inconvenience caused by this."
Photo: Archive image of the Stoke Gifford Sort It! Centre.
Related link: Sort It! centres (South Gloucestershire Council)