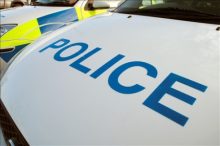 Police are appealing for witnesses after a man was punched and had his car keys stolen following an apparent 'road rage' incident on the Winterbourne Road in Stoke Gifford.
The incident happened at approximately 12.30pm on Monday 21st September.
The victim was driving on a section of the road which sees two lanes merge into one from the direction of Winterbourne towards Stoke Gifford.
When he saw a blue Ford Mondeo trying to overtake other motorists as they merged, he moved his car across to block it.
The car still overtook before cutting in front of the victim and braking heavily, causing the victim to collide with the back of the Mondeo.
The driver and passenger of the Mondeo subsequently got out and approached the victim's car, dragged him out and punched him.
The suspects also took the victim's keys from the ignition before driving off.
One suspect is described as white, aged in his mid to late 20s, about 5ft 8ins tall with short, messy fair hair. He was wearing a brown t-shirt and cream and brown work trousers.
The second suspect is also described as being in his mid to late 20s and was wearing a black woolly hat and a yellow high visibility jacket. He also had a tattoo on the right side of his neck.
Anyone who witnessed the incident, or who has any information about it, is asked to call 101 quoting reference number 104589/15.