Posted on Friday 23rd October 2015 at 9:47 pm by SH (Editor)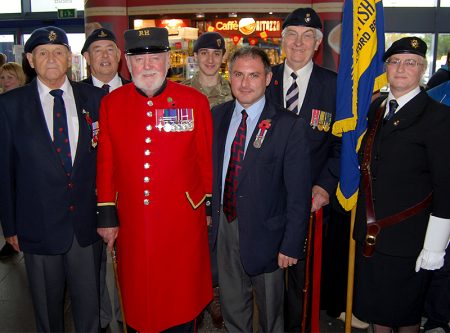 The Stoke Gifford branch of The Royal British Legion (RBL) launched its 2015/16 Poppy Appeal with a ceremony in the foyer of Bristol Parkway Station this afternoon (Friday 23rd October).
The branch was pleased to welcome a special guest, Chelsea Pensioner Brian Cummings MBE, who cut a ceremonial ribbon to mark the start of the local appeal.
Mr Cummings retired from the army in 1983 following 33 years of service with the Royal Corps of Signals, during which he saw service in the Middle & Far East and on the continent. He was made an MBE for his welfare work at the Ministry of Defence, where he spent 14 years after retiring from the army. He became a resident of the Royal Hospital (home of the Chelsea Pensioners) following the death of his wife in 2009.
The ceremony was also attended by Station Manager Linda Swainger, Jack Lopresti MP (RBL branch vice president), members of the 1st Stoke Gifford (Old School Rooms) Scout troop and other supporters of the local RBL branch.
Parkway Station is one of the main sites for the branch's fundraising efforts, along with the Asda store in Filton, Sainsbury's in Stoke Gifford and the Willow Brook Centre in Bradley Stoke.
Branch members will be collecting at each of the four venues daily from 9am to 6pm until Sunday 8th November. In addition to traditional poppies, the branch will be once again be selling its popular knitted poppies, along with wristbands, snapbands, centenary edition enamel badges, car badges and wooden crosses.
The branch raised a record £48,932 during its 2014/15 Poppy Appeal, which ended on 30th September.
Branch president Brian Hewitt MBE said:
"I cannot give strong enough praise to the Stoke Gifford branch of the RBL, on their record breaking and fantastic effort raising over £48,000 over the past twelve months. On behalf of our members, thank you very much to the generous local public who have donated so generously to our Poppy Collection. We invite you to help again during 2015/16, when we want to collect £50,000!"
Money raised through the Poppy Appeal goes to the RBL's Welfare Fund, which is used to give help and support to serving and ex-service personnel and their families.
Branch Poppy Appeal organiser John Moloney said:
"We must continue in our endeavour to make sure the welfare of our armed forces continues after they have left, and also whilst serving."
If you or someone you know needs help from the RBL, please contact the national helpline on 0808 802 8080.
The RBL has recently opened a drop-in centre at 60 Union Street, Bristol, where people can call in for advice and information on the charity's support and community services.
The local RBL branch is always looking for volunteers for its work; if you are interested, please contact John Moloney on 07802 535591.
Local Remembrance parades and ceremonies
Bradley Stoke: Sunday 8th November – Parade from the Jubilee centre at 10.30am. Ceremony in the town square at 10.40am.
Stoke Gifford: Sunday 8th November – Ceremony at the cenotaph, North Road at 10.15pm followed by services at St Michael's Church and Rock Lane Baptist Church at 11am.
Patchway: Sunday 15th November – Parade from the car park near Coniston Medical Practice at 10.15am followed by Remembrance service at the war memorial in Scott Park.
Armistice Day commemorations at 11am on 11th November
Short ceremonies organised by the Stoke Gifford Royal British Legion, with the Exhortation, Last Post, Two Minute Silence, Reveille and Kohima Epitaph.
Bradley Stoke: Willow Brook Centre
Stoke Gifford: Parkway Station and Sainsbury's Supermarket
Share this article:
Tags: Poppy Appeal, Royal British Legion