Posted on Monday 25th April 2016 at 8:36 pm by SH (Editor)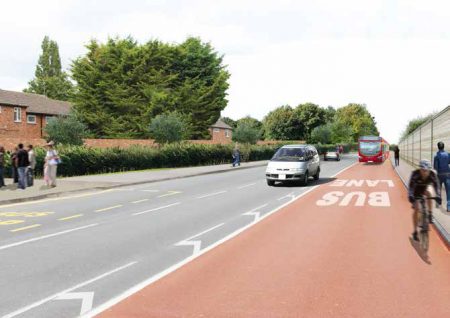 A report on the results of the recent public consultation on preliminary designs for the Cribbs Patchway MetroBus Extension (CPME) is recommending that the scheme be progressed largely unaltered, despite scores of people registering objections to the proposed widening of Hatchet Road in Stoke Gifford, in order to accommodate a new bus lane.
The proposals require a strip of land to be taken from Meade Park (resulting in the loss of some trees) and the removal of hedgerows on both sides of Hatchet Road south of Meade Park.
Councillors on South Gloucestershire Council's Planning, Transportation and Strategic Environment (PTSE) Committee will be making a decision on the next steps for the project at their meeting on Wednesday 4th May.
The CPME is an extension of the MetroBus network which will extend the North Fringe to Hengrove MetroBus route that is currently under construction. The CPME will provide a fast and direct link between Bristol Parkway station and The Mall bus station via the Cribbs Patchway New Neighbourhood. It will also link to the other MetroBus routes which are currently being built, including the South Bristol link and Ashton Vale to Temple Meads.
One of the elements of the scheme is the proposed replacement of the railway bridge over Gipsy Patch Lane. The proposed new bridge would be wider and include a lane for general traffic, a shared use path and a bus lane in both directions.
Councillors will be asked at the committee meeting to approve the start of the necessary procedures to allow the project to progress, including detailed design work and the use of compulsory purchase powers, if necessary, to acquire land needed in some places to build the CPME.
More: Alternative route via Hunts Ground Road not suitable, says report »
Share this article: