Posted on Friday 17th June 2016 at 12:06 am by SH (Editor)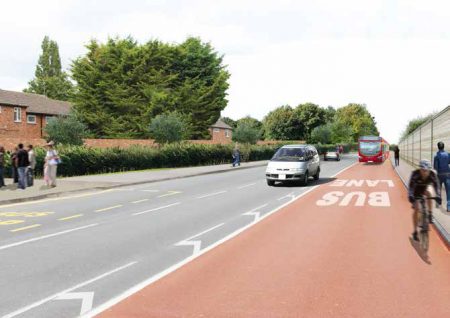 A decision on plans to widen Hatchet Road in Stoke Gifford, to accommodate a new southbound bus lane for the proposed Cribbs Patchway MetroBus Extension (CPME) route has been deferred by South Gloucestershire Council.
The CPME is an extension of the MetroBus network which will extend the North Fringe to Hengrove MetroBus route that is currently under construction. The CPME will provide a fast and direct link between Bristol Parkway station and The Mall bus station via the Cribbs Patchway New Neighbourhood.
The proposed CPME scheme links Bristol Parkway Station and The Mall bus station, via Hatchet Road, Gipsy Patch Lane, through the former Rolls-Royce East Works site, along North Way, under the A38 via the existing underpass at the Combination Ground junction, and through the former Filton Airfield site (earmarked for redevelopment as part of the Cribbs Patchway New Neighbourhood).
Strong opposition to the Hatchet Road widening, which would require a strip of land to be taken from Meade Park (resulting in the loss of some trees) and the removal of hedgerows on both sides of the road south of Meade Park, was evident in the results of a public consultation on the proposed CPME scheme that ran from November 2015 to January 2016. Of the 95 responses relating to Hatchet Road, 75 are classified as objections. Additionally, a separate, independent online petition titled 'Do not widen Hatchet Road' has attracted over 500 signatures.
Many of the objectors, along with Stoke Gifford Parish Council, suggested an alternative route out of Bristol Parkway Station – following Hunts Ground Road, Great Stoke Way and Winterbourne Road, before joining up with the originally proposed route along Gipsy Patch Lane.
More: Councillors suggest fallback option of bus laybys on Hatchet Road »
Share this article: