Posted on Thursday 1st September 2016 at 9:00 pm by SH (Editor)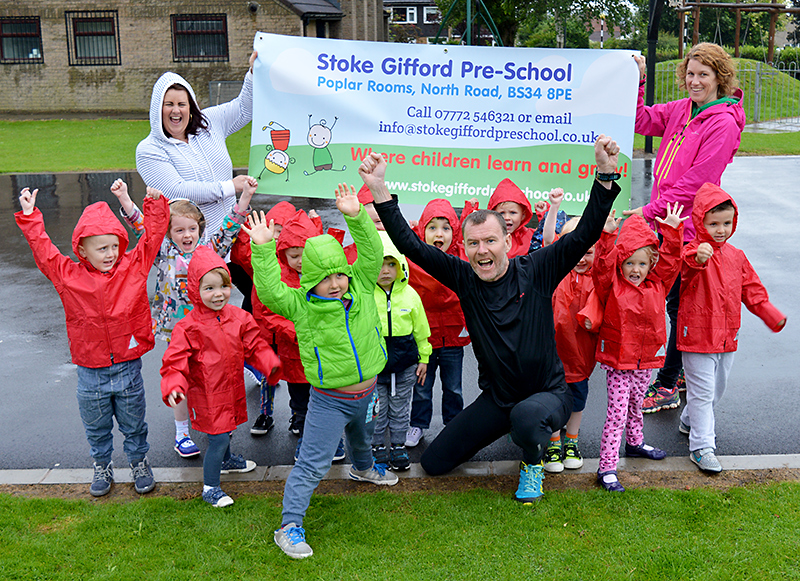 Children at Stoke Gifford Pre-School, based at the Trust Hall in North Road, enjoyed a visit from Somerset runner Jim Plunkett-Cole, who talked to them about the importance of exercising regularly.
After being inspired by the London 2012 Olympics, Jim has run 10km every day since 1st January 2013 and now swims and cycles every day too. His next challenge, which he plans to start in October, is to turn film fiction into reality by replicating Forrest Gump's 2,000 mile run visiting every state in the USA, giving inspirational talks to children at hundreds of schools along the way.
Having to adapt his usual presentation to suit his youngest-ever audience, Jim told them stories about running with his dog Alf. Because of their young age he compared a stag he'd seen to Sven from the film Frozen and other characters they knew and loved.
Sam Milkins, a keen runner and parent committee member at the pre-school, who had arranged the visit, said Jim deliberately made it sound more like a story so they would stay interested. (Jim told her he thought they'd find the facts boring.) They were fascinated and were all very keen to see what he had to show them on his laptop.
With the talk over, the children donned their raincoats and went outside to join Jim for a run around the field, which they enthusiastically completed.
Sam said: "The children really enjoyed the visit from Jim. It had been timed with St Michael's sports days in mind, so that they could enjoy a sporting experience too. The parents fed back that they'd heard all about the fun their children had had running with Jim, a very good sign of a successful visit!"
• For more information, visit the 'JimGump' page on Facebook.
This article originally appeared in the August 2016 edition of the Bradley Stoke Journal news magazine, delivered FREE, EVERY MONTH, to 9,500 homes in Bradley Stoke, Little Stoke and Stoke Lodge. Phone 01454 300 400 to enquire about advertising or leaflet insertion.
Share this article:
Tags: running, Stoke Gifford Pre-School