Posted on Monday 13th March 2017 at 6:42 pm by SH (Editor)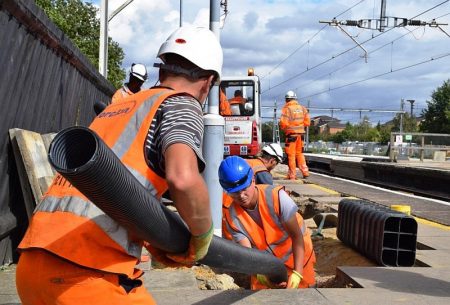 Local residents have been invited to attend a second drop-in event to find out more about upcoming work in and around Parkway Station, as part of the project to electrify the Great Western Mainline between London and South Wales.
The event takes place on Tuesday 14th March at The Old School Rooms, North Road, Stoke Gifford BS34 8PD, from 4.30pm to 7.30pm.
Network Rail says the next phase of the work will include:
Stabilising the railway embankment next to the Filton line, known as the Filton East Curve
Setting up a compound at the Ashfield Land site, off Hunts Ground Road
Carrying out repairs and track work at Hatchet Road bridge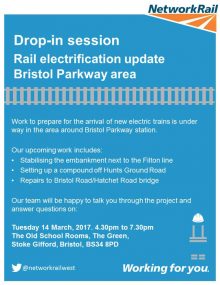 The embankment work is due to start in April 2017 and finish in August 2017. Most of the work will take place during the daytime between 8am and 7pm. However, due to the constraints of the location, some work will need to be carried out at night.
The main compound for the electrification work in the area will be at the Ashfield Land site, off Hunts Ground Road, which will be used to store materials, and provide parking and welfare facilities for staff. Network Rail is currently setting up the compound, which is expected to be in use until February 2018.
The workforce will be taken by bus from Hunts Ground Road to another compound on New Road, from where they will access the railway.
The brick arch structure of Hatchet Road bridge will undergo repairs and reinforcement works as well as track level works. This work is planned from June 2017 to August 2017, and will involve three road closures on Saturday nights, from approximately 10pm to 7am (dates to be confirmed).
More information and related links:
Share this article:
Tags: Bristol Parkway, Network Rail, railway electrification, railways