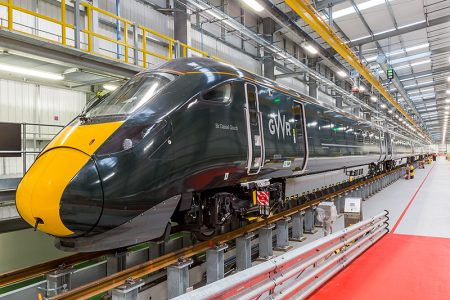 Japanese firm Hitachi is creating 150 jobs at its newly built train service depot in Stoke Gifford.
The £80m facility, near Bristol Parkway Station, will maintain the new Intercity Express (ICE) trains which will run on the Great Western route.
Recruitment for the 150 jobs is starting now to ensure the facility is ready ahead of arrival of the new trains, which will connect London to Wales and the South West of England, entering service later this year.
Work carried out at the Stoke Gifford depot will include readying trains for passenger services. Whilst housed at the depot, trains will be serviced to ensure they are in good condition, safe and clean. Day to day tasks will include engine tests, changing wheel sets and running thorough inspections of the trains.
The new trains offer a step change in passenger experience with more seats available and modern technology.
The first wave of the new trains to be introduced on passenger services is being built at Hitachi Rail Europe's (HRE's) UK train manufacturing facility at Newton Aycliffe, County Durham.
The new roles are permanent and require people with a wide range of experiences and backgrounds. As part of bringing new skills and talents into the industry, steps are being taken to attract people who have not previously worked in rail. HRE is looking to recruit from a variety of sectors such as aviation, automotive, and the military, as well as those groups often under-represented in rail such as women and young people. HRE will provide extensive training to ensure new employees meet the high standards long associated with the Hitachi brand.
HRE's contract to maintain trains at Stoke Gifford for the next 27½ years has ensured the creation of sustainable jobs in the area. The ambition to make the site a long-term centre of excellence has placed an importance on educating the next generation about the merits of working in rail.
Links are being forged with local schools and colleges where HRE will demonstrate the wide-range of opportunities available in the rail industry as well as promoting participation in STEM subjects.
Stoke Gifford will recruit four new apprentices every year once the site is fully operational.
Rail Minister Paul Maynard MP said:
"This is great news as it shows how our long-term investment in the modernisation of the rail network is creating new skills and new jobs. More people than ever before are using trains and this government remains committed to providing a modern, state-of-the-art fleet supporting the network our country needs for the future."
Gary Martin, Stoke Gifford Depot Manager said:
"The Stoke Gifford depot will soon become a source of great local pride where new trains carrying millions of passengers will be serviced to the highest of standards."

"Our newly built facility is a clean and modern environment which will break all traditional stereotypes of a train depot. To house 21st century trains Hitachi Rail Europe has designed a truly forward looking facility offering exciting opportunities for local people.

"As well as building new trains and depots, we are also investing in a new generation of rail workers. We want the widest range of talents and skills as we gear up towards the new trains coming into service later this year."
The Stoke Gifford rail depot is located within the north-east segment of the Filton Triangle on a spur off the rail line between Bristol Parkway and Patchway stations. It is accessed via North Way, which leads off the A38 Gloucester Road North.
More information and related links:
This article originally appeared in the March 2017 issue of the Bradley Stoke Journal magazine (on page 20). The magazine is delivered FREE, EVERY MONTH, to 9,500 homes in Bradley Stoke, Little Stoke and Stoke Lodge. Phone 01454 300 400 to enquire about advertising or leaflet insertion.