Posted on Thursday 29th June 2017 at 12:10 am by SH (Editor)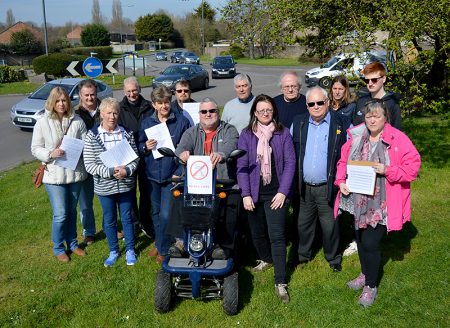 Residents campaigning to reverse a decision to construct a one-way bus lane on Hatchet Road in Stoke Gifford have begun the formal process to secure a debate at a full meeting of South Gloucestershire Council (SGC) after their petition passed the critical milestone of 2,500 signatures in early May.
The campaigners are opposed to the bus lane, which will form part of the Cribbs Patchway MetroBus Extension (CPME) scheme, because it will require the destruction of hedgerows and many mature trees and yet bring no significant improvement in bus journey times.
Paul Tanner who fronts the Hatchet Road Action Group, presented the petition to the meeting of SGC's Full Council on 17th May (see below).
The earliest opportunity for the matter to be debated would be at the next Full Council meeting on 19th July, but SGC officers are yet to confirm a date.
Mr Tanner says he has made a number of Freedom of Information requests to the council for unpublished reports associated with the original decision. These, he claims, further support the group's case that the decision was made without a proper appraisal of all the options on the table.
Should the group's actions at SGC prove unfruitful, it is planned to approach the new Metro Mayor, Tim Bowles, who, prior to his election, pledged to call for a review of the Hatchet Road section of the CPME route.
More: Paul Tanner's speech to Full Council on 17th May»
Share this article:
Discussion is open - be the first to comment - click here to respond.