Posted on Saturday 15th July 2017 at 8:36 pm by SH (Editor)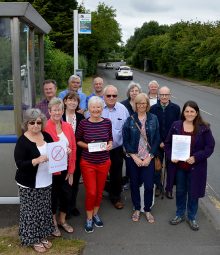 Campaigners opposed to the construction of a new bus lane on Hatchet Road in Stoke Gifford will have another chance to persuade councillors to abandon the scheme when their 3,200+ signature petition is debated at a full meeting of South Gloucestershire Council (SGC) on Wednesday 19th July.
The proposed new southbound bus lane on Hatchet Road will form part of the Cribbs Patchway MetroBus Extension (CPME) scheme, which will link The Mall at Cribbs Causeway with Bristol Parkway Station and serve the new developments planned for the former Filton Airfield site.
Local residents and councillors are opposed to the bus lane because it will require mature hedgerows and trees to be removed from both sides of Hatchet Road. They also claim it is a waste of money (costing £2m to reduce bus journey times by just 29 seconds, during the morning peak only) and say they are concerned that its construction will cause severe disruption to traffic in the area.
Their preferred alternative is to review the number of bus stops on Hatchet Road and implement lay-bys at those that are deemed necessary. This, they claim, would facilitate better traffic flow for all road users. SGC's own figures show that such a scheme would save over £1.25m and achieve improved bus journey time savings in comparison to the bus lane option.
The Journal understands from local SGC councillors that the meeting on 19th July is unlikely to overturn the previous decision, but will instead be asked to consider whether a review of that decision should take place.
Paul Tanner, who fronts the Hatchet Road Action group, said:
"I am delighted that we have managed to get over 3,200 signatures for our petition. This reflects the widespread local support for our campaign and the tremendous efforts of so many people in the action group."
More: Campaigners demand more openness and transparency »
Share this article:
Discussion is open - be the first to comment - click here to respond.