Posted on Thursday 5th October 2017 at 9:10 pm by SH (Editor)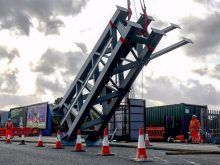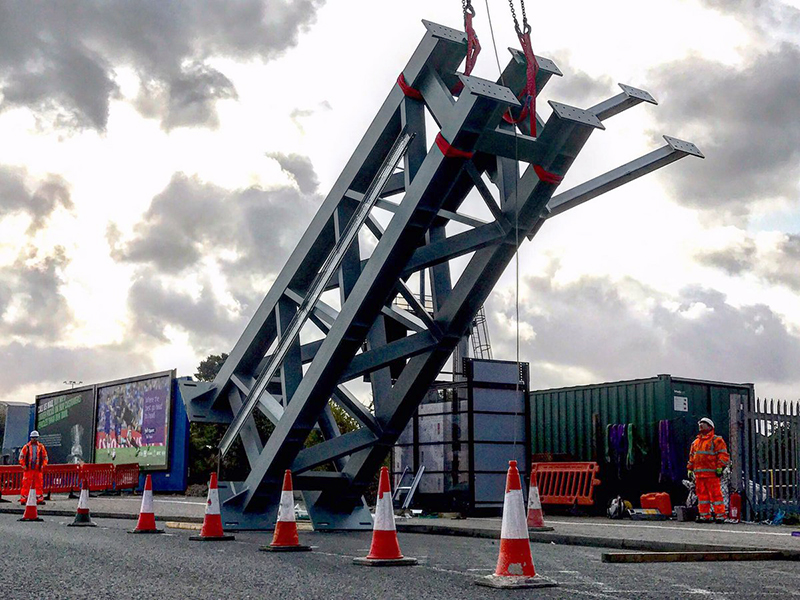 Upgrade work on the Great Western main railway line, which necessitated the closure of a section of the route for four weeks and the closure of Bristol Parkway Station for the final two weeks of that period, was successfully completed by Network Rail in mid-September, marking another major milestone in the delivery of the Great Western modernisation programme.
The line re-opened as planned on the morning of Saturday 16th September following an extensive programme of work, which took place over a 28-mile stretch of railway between Swindon and Bristol Parkway, bringing GWR's new fleet of Intercity Express Trains another step closer for passengers.
These brand new trains will deliver more than a fifth more seats per train and more frequent services for passengers when they are introduced this autumn.
Almost 5,000 members of Network Rail's orange army put in more than 175,000 working hours throughout the four weeks of work, which involved the use of 14,000 tonnes of ballast, approximately 2,600 concrete sleepers, 106km of wires and more than 500 foundations for electrification.
Work to improve reliability and increase capacity has taken place at Bristol Parkway Station, including track renewals and signalling upgrades. Further vital upgrades to accommodate the new trains took place as the extension of three platforms and the construction of a fourth platform at the station got underway, due for completion at the end of this year.
Also, as part of this programme of work, electrification of the Chipping Sodbury Tunnel was completed with more than 8km of conductor rail and approximately 1,100 anchors drilled into the Victorian tunnel to support the electrification infrastructure.
This series of work has also enabled the first phase of the resilience scheme at a flood-prone area in Chipping Sodbury to be completed as part of the Department for Transport's Flood Resilience Programme.
David Buisson, Network Rail major programme director, said:
"I'd like to thank passengers and those living near to the railway for their patience as we have completed this important work."

"I'd also like to thank our workforce for their efficient and safe delivery of these works and our colleagues at GWR who have worked hard to keep passengers moving throughout this programme of upgrades."

"We've made great strides towards electrifying this section of the railway over the past four weeks, and we will continue to work safely and tirelessly to bring the benefits of electrification to passengers in 2019."
Rob Mullen, GWR operations director, said:
"This work is crucial to maximising the benefits of our new Intercity Express Trains which enter service this year, with more seats compared to our existing trains and quicker journeys to London from 2019."
---
Service alterations during October 2017
This autumn, Network Rail are building a new platform at Bristol Parkway, and making track improvements, in readiness for the new Intercity Express Trains. They are also carrying out work in the Severn Tunnel, Filton Abbey Wood and Cardiff areas. Journeys may be longer than normal, and buses will replace trains on some routes. If you travel through Bristol Parkway at weekends, please check your train times, as there are some major changes.
Saturdays in October: Trains between London and South Wales will be diverted to avoid the Severn Tunnel
Sundays 15th & 22nd October: Trains between London and South Wales will terminate at Bristol Parkway, with replacement buses running between Bristol Parkway and Cardiff Central
Sundays 1st, 8th & 29th October (to 1pm): Trains between London and South Wales will terminate at Bristol Parkway, with replacement buses running between Bristol Parkway and Cardiff Central
• Plan your journey at GWR.com/BristolParkway2017
---
Photos: 1 New signalling gantry being installed at Bristol Parkway. [Credit: Network Rail] 2 A 110-tonne Kirow crane lays track at Bristol Parkway to serve a new platform. [Credit: Network Rail] 3 Busy times at Patchway Station as trains are diverted from Bristol Parkway.
This article originally appeared in the October 2017 issue of the Bradley Stoke Journal news magazine (on pages 4 & 5). The magazine is delivered FREE, EVERY MONTH, to 9,500 homes in Bradley Stoke, Little Stoke and Stoke Lodge. Phone 01454 300 400 to enquire about advertising or leaflet insertion.
Share this article:
Tags: Bristol Parkway, Network Rail, railway electrification, railways