Posted on Friday 13th October 2017 at 8:34 pm by SH (Editor)
Local councils in the Stokes have been counting the cost of a recent unauthorised traveller encampment in the Forty Acres area of Stoke Gifford and considering measures for increasing security at vulnerable sites.
Around thirty traveller caravans and associated vehicles entered Forty Acres after a lock and chain was cut on the vehicular access gate from Hatchet Road, opposite Meade Park, on 9th August. The travellers were eventually evicted by bailiffs on 18th August after Stoke Gifford Parish Council obtained and served a court order.
A meeting of the parish council on 12th September was informed that the legal costs associated with the securing the eviction, including legal advice, court charges and bailiff fees, were estimated to be in the region of £2,500.
Local residents were commended for assisting the parish council with litter picking and clearance work after the travellers had left, but it was nonetheless still necessary to use the services of South Gloucestershire Council's grounds maintenance team to remove large quantities of white goods, mattresses, green waste and general rubbish that had been left behind, at a cost of just over £3,000.
Questions were asked about why boulders which had previously protected the Hatchet Road entrance to Forty Acres had been removed a number of years ago and never replaced. It is thought that this happened when either the Environment Agency or SGC were working on the site but no conclusive answers were forthcoming. Needless to say, the boulders have now been reinstated.
Additional security measures agreed at an extraordinary meeting of the parish council on 29th August include a new height restrictor bar for the entrance to Little Stoke Park and telescopic posts to be installed at entrances to the Mike Gallivan Memorial Field and Royal Park, at a total cost of almost £3,000.
As previously reported, once evicted from Stoke Gifford, some of the traveller convoy made a stopover in Bradley Stoke before eventually forming a new encampment at The Tumps in Patchway.
News has since emerged that a number of travellers attempted to enter the Jubilee Centre site in Bradley Stoke, where town clerk Sharon Petela and other council staff were able to successfully fend them off, the town clerk reportedly sustaining bruising to her arm in the process. Council members later praised the staff "for their vigilance and sterling efforts in preventing unauthorised vehicles accessing the site". However, they were less than impressed with the response of the police, who took 20 minutes to respond to a 999 call. A formal complaint was subsequently made, which resulted in an apology being issued with the explanation that there had been a misunderstanding between two separate police units.
The incident has also prompted Bradley Stoke Town Council to review its site security and it has since been agreed to obtain quotes for the installation of a new gate and fencing at a second vulnerable entrance to the Jubilee Centre site, the installation of tamper-proof padlocks on all gates, the installation of boulders along the Great Meadow side of the Baileys Court cricket pitch and the installation of soil banks on Bradley Stoke Way and Brook Way.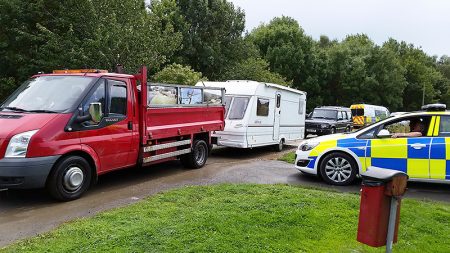 Photos: 1 Reinstated boulders at the Hatchet Road access gate to Forty Acres. 2 Travellers' vehicles leave Forty Acres on Friday 18th August.
This article originally appeared in the October 2017 issue of the Bradley Stoke Journal news magazine (on page 42). The magazine is delivered FREE, EVERY MONTH, to 9,500 homes in Bradley Stoke, Little Stoke and Stoke Lodge. Phone 01454 300 400 to enquire about advertising or leaflet insertion.
Share this article:
Tags: travellers