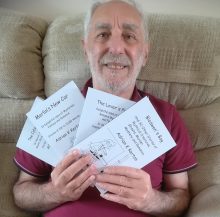 Adrian Kerton, a resident of Stoke Gifford, has just published four books which are available to buy in paperback or to download onto a Kindle e-reader.
The books contain a series of short stories which range from 100 words to 8,000 words and include a variety of genres.
Although Adrian's main interest is researching and writing about the history of the local area, he has also developed an enjoyment of writing fictional stories. He began writing these in 2009 when he wrote a story for his wife based on a moment they shared together:
"Some years ago my wife's wedding ring was repaired and when I returned from the jewellers I put it on her finger and it was like a Disney moment – it seemed that for a short time we were the only people in existence. I wanted to capture that moment and wrote a story for her based on that experience."
After that, Adrian started to write more stories when he got inspiration from things around him, such as news stories, TV programmes and personal experiences. He has also written a few children's stories for friends.
The stories in Adrian's books cover a wide range of genres including romance, fantasy, mystery and murder but his favourite themes are benevolent ghosts and events that have a positive outcome. Adrian also likes to try to surprise the reader by including a twist at the end of his stories.
So far, Adrian has published about 120 stories across four books, all of which are available to buy on Amazon and have so far received five star reviews including:
"Fabulous book. Lots of short, enjoyable, captivating stories. Definitely recommend."

"Another enjoyable collection of stories from Adrian Kerton, like his previous book these stories had the right mix of humor and curiosity. Definitively recommend."

"I was bought this as a gift, a delightful book with a variety of amusing stories. Some are short, others longer, each telling a unique and interesting tale often with an unusual and somewhat unexpected ending, bringing much pleasure to the reader. Highly recommend!"
Adrian is still busy continuing with his writing and he already has forty new stories that are yet to be compiled into a new book. To view the books that have been published so far, visit: