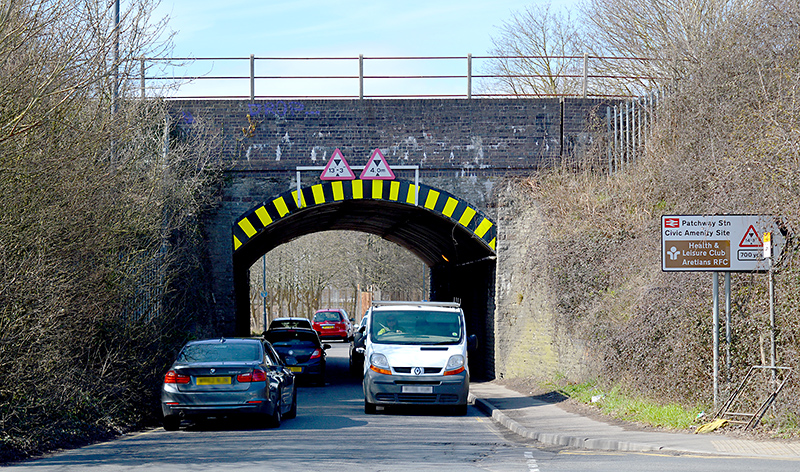 The proposed Cribbs Patchway MetroBus Extension (CPME) scheme, which will see the old railway bridge on Gipsy Patch Lane replaced with a much wider concrete structure, took a major step forward in July with the approval of three of the four planning applications necessary to allow it to proceed to the next stage in its project plan.
The existing masonry railway bridge has a height clearance of only 4m and creates a 'pinch point' on the local road network. The replacement bridge will be of concrete construction and will span 24m, approximately 14m wider than the current bridge. To accommodate taller vehicles, such as double-decker buses, the carriageway will be lowered by around 1.7m under the bridge.
New bus lanes will also be constructed along sections of Gipsy Patch Lane, either side of the bridge.
The work will require one-way and full closures of sections of Gipsy Patch Lane, for a period of 21 months, currently scheduled to commence in July 2019.
The duration of the required full closure is now estimated at 330 days (up from the previously stated eight months), from January to November 2020.
Demolition of the existing bridge and construction of the new bridge is scheduled to take place during a twelve-day closure of the railway, most likely over Easter 2020.
Approval of the most significant of the four applications, the one for the replacement railway bridge, was secured despite planning committee member Cllr Ernie Brown (also chair of Stoke Gifford Parish Council) tabling a proposal that its consideration should be deferred " in order that clarification and more detail is made available for discussion regarding the lowering of the road and the construction programme, and to allow further consultation to be undertaken with residents, local businesses and traders."
Among those who raised concerns during the public questions session at the start of the committee meeting on 12th July was Stoke Gifford ward councillor Keith Cranney, who expressed concerns over the impact that the construction period will have on local businesses and the likelihood of increased noise and disruption to residents living on diversion routes (the council's recommended one being through Bradley Stoke, along Brook Way). He also called for a stakeholder liaison group to be established.
A representative of Tyres Direct, based at Pegasus Industrial Park (just west of the railway bridge), argued that the construction impact would "reduce trade, lead to uncertainty over staffing and managing deliveries and with longer term business implications".
Planning permission was granted, subject to the following issues being satisfactorily addressed in the construction environment management plan:
Details of measures to retain access to Patchway Railway Station on foot and by car; and for Parkway to Patchway rail station rail replacement buses to continue running
Details of measures to maintain alternative routes for publicly maintained bus services that would normally pass under the railway bridge
Details of measures to ensure 24-hour access to and from Pegasus Industrial Park
Details of measures for alternative footway provision during construction
Planning applications:
This article originally appeared in the September 2018 issue of the Bradley Stoke Journal news magazine (on page 7). The magazine is delivered FREE, EVERY MONTH, to ALL 8,700 homes in Bradley Stoke. Phone 01454 300 400 to enquire about advertising or leaflet insertion.