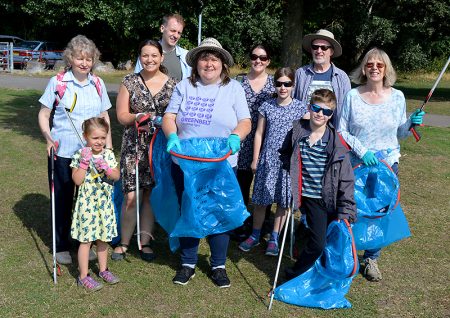 When local resident Jenny James discovered that the group known as the Friends of Meade Park no longer existed, she decided to revive it. As someone who regularly walks through the park, she felt it was important to have a group of people who monitor and take care of the green space, alongside Stoke Gifford Parish Council.
Jenny began by creating a Facebook page for the group, which now has over 200 'fans'. She said:
"The Facebook page has become a real part of the community. There has been a lot of interest in the group and the page provides a place for people to report damage and share their ideas for the park."
The Friends of Meade Park group then sent out a survey to local residents to find out what people would like from the park and they organised their first community litter pick on 4th August. Jenny was extremely pleased with the turnout as around 15 people, including numerous families, attended the event. Stoke Gifford Parish Council provided all of the equipment, including gloves, bags and pickers and the local Co-op gave the group free bottles of water. In the space of a few hours, the pickers had collected enough litter to fill ten refuse sacks making a huge difference to the cleanliness of the park. As the litter pick was so successful, Jenny is planning on organising them at regular intervals throughout the year.
Jan Brunwin, who helps Jenny with the group, said:
"It was a very successful event with many families coming to help. It was a great opportunity for children to understand and learn how to take care of their environment."
As a result of the survey that was sent out to local residents, Jenny and Jan have many long-term projects to work on which will need time and fundraising to come to fruition. Some of the requests include:
More picnic benches
Flower borders
Fruit trees
Basketball hoop area
Recycling bins
If you have any ideas or suggestions for how to make the park a better place for the community, please get in touch with the group via email at friendsofmeadepark@gmail.com, on Facebook (Friends of Meade Park) or via Twitter @meade_park
For now, Jenny and her friends are looking to form a full committee to help run the Friends of Meade Park group. A meeting will be taking place on Tuesday 16th October in the side room of The Stokes Youth and Community Centre, Little Stoke Lane BS34 6HY from 7pm to 8pm. At the meeting, a vote will take place to decide on who will become chair, treasurer, secretary and other roles. If you would like to become a committee member or would like more information about the meeting, please contact Jenny via email or Facebook.
Photos: 1 Jenny James (centre) with some of the local residents who took part in a recent litter pick in the park. 2 Children's play area in the park (archive image).
Related link:
This article originally appeared in the October 2018 issue of the Stoke Gifford Journal news magazine (on page 4). The magazine is delivered FREE, EVERY MONTH, to over 5,000 homes in Stoke Gifford, Little Stoke and Harry Stoke. Phone 01454 300 400 to enquire about advertising or leaflet insertion.