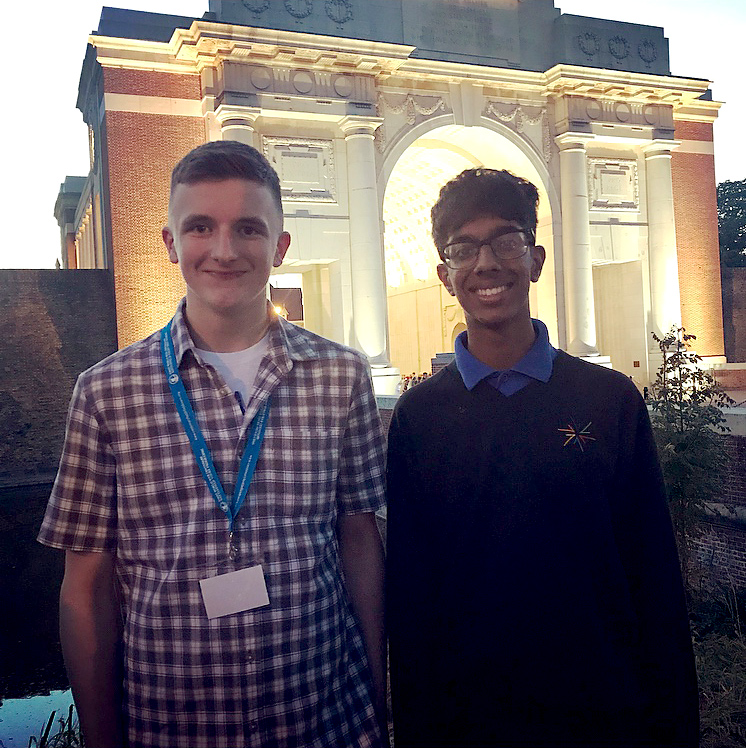 Two Year 11 students from Abbeywood Community School recently travelled to Belgium and France as representatives for the legacy project that is being run by University College London alongside the government. Tom Wallington and Anish Kataria spent three days in October exploring battlefields and seeing key sites from World War 1, with the main focus being around the battlefields around Ypres and the Somme valley. They were accompanied by their teacher, Miss Traynor, who said:
"Both students were exemplary and their behaviour and conduct was positively commented on, both by the hotel and the trip organisers. It was an amazing trip and one that we hope to be able to carry out again with younger students."
Now that they have returned from the trip, the idea is that Tom and Anish will come up with their own legacy project in order to share their experiences of the battlefields with the other students at Abbeywood.
Miss Traynor's account of the trip is reproduced below…
On the Friday evening, before our departure, we spent some time researching soldiers from our local area who we would try to locate during our time on the battlefields. The two soldiers we came across were Alfred Luke Cannon and Duncan J Thompson. Alfred was from Southmead and Duncan lived on Filton Avenue.
On our first day, we visited Lijssenthoek and it was here amongst the many, many graves that we discovered the only woman in the cemetery (and only one of five commemorated in cemeteries), namely, Nellie Spindler. This cemetery in particular showed us the diverse nature of the people fighting in the war – different nationalities, religions etc. who were all buried together as comrades.
On day two, we visited the Somme valley which witnessed some of the bloodiest battles of the war, with as many as 50,000 casualties on the first day. Whilst here we also visited Thiepval memorial where Alfred Cannon is commemorated. At Thiepval, there were also some elements of the Shrouds of the Somme, which will be soon be shown in its entirety in the Olympic Park in London. This will commemorate the 72,000 missing soldiers from the Somme battles. That evening, we visited the Menin Gate, which was an emotional experience. Hearing the bugles which perform the Last Post was spine tingling. Anish was lucky enough to present the memorial wreath from our group and did an excellent job.
On our last day, we visited Tyne Cot cemetery and memorial. This is the largest British and Commonwealth cemetery in the world. It was here we found Duncan J Thompson, who was engraved on the wall. He has no grave as he is one of the missing. We left a cross by his name so Abbeywood could celebrate and thank a soldier who lived on a road where many students (past and present) have lived. Tyne Cot was one of the most mesmerising elements of the trip and it is a fitting tribute to all the courageous soldiers who gave their lives. After we had some moments to reflect, a passage was read by our guide, Barney, and this particular line resonated with us: "They sacrificed their today for our tomorrow." We are thankful to the soldiers who gave their lives, and in particular Alfred and Duncan who were from our community.
Photos – Top: Tom and Anish at the Menin Gate, Ypres. Above: (left) Cross left beside name of local soldier Duncan J Thompson; (right) Lijssenthoek Cemetery.
This article originally appeared in the November 2018 issue of the Stoke Gifford Journal news magazine (on page 25). The magazine is delivered FREE, EVERY MONTH, to over 5,000 homes in Stoke Gifford, Little Stoke and Harry Stoke. Phone 01454 300 400 to enquire about advertising or leaflet insertion.