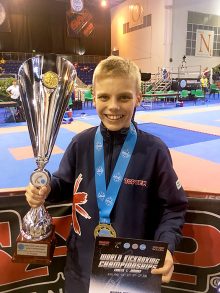 Abbeywood Community School student Liam Holden has recently been crowned junior kickboxing world champion at a tough competition which was held in Venice, Italy.
Liam, who has been kickboxing since he was 6 years old, is now 13 and competes in about ten tournaments a year, both here and abroad. The world championships that took place in Venice between 16th and 23rd September saw over 1,000 competitors from 64 countries battling it out to be named world champion. With the temperature in Italy being a toasty 26 degrees and the arena not being air conditioned, it was tough conditions for Liam to fight in, however, having trained in similar conditions, he was well prepared for the tournament.
Liam won his fights every day of the competition, beating opponents from Hungary, Argentina, Slovenia and Russia. On Saturday 22nd September he faced a player from Ireland in the final. His opponent was tough, but Liam was in control from the beginning and maintained good scoring all the way through the fight. After a week of fights, Liam was crowned Junior kickboxing World Champion. His mum Kelly, who was there supporting him during the tournament, said
"I don't think I could ever explain the emotions I felt when Liam stepped out to fight in his final, and when they lifted his arm as the winner, it was one of the proudest moments of my life! I was so pleased for him, he works and trains so hard and gave up his whole summer to train every day."
Liam can't quite believe his success, saying:
"It still hasn't really sunk in that I am world champion; it was just the best feeling to stand on top of the podium hearing the national anthem being played!"
Since returning from Italy, Liam has competed in the Bristol Open which took place over two days at the City Academy. Here, 700 competitors from 14 different countries took park in the tournament and after four successful fights, Liam was once again crowned champion.
If you are interested in taking up kickboxing as a sport, you would need to be prepared to work hard and put in a lot of time as at the moment Liam trains four to five times a week. Some sessions are an hour-and-a-half, and twice a week he trains for three hours.
Describing his favourite sport, Liam says:
"I love the fitness kickboxing gives me and I am learning and developing new skills all the time. My advice for anyone wanting to do the sport is to always try your best and be dedicated."
Liam completes his kickboxing training at GB Fit in Horfield. To find out more about their classes and what kickboxing involves, visit their website www.iamgbfit.com
This article originally appeared in the November 2018 issue of the Stoke Gifford Journal news magazine (on page 11). The magazine is delivered FREE, EVERY MONTH, to over 5,000 homes in Stoke Gifford, Little Stoke and Harry Stoke. Phone 01454 300 400 to enquire about advertising or leaflet insertion.