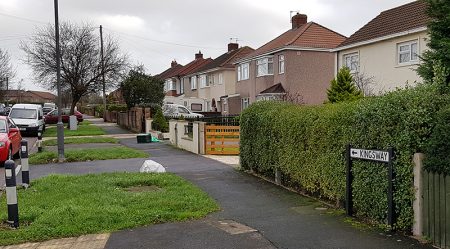 Police are urging people to be alert and check on vulnerable elderly relatives and friends after a spate of distraction burglaries at senior citizens' homes in the past week, including one in Little Stoke.
On Tuesday 18th December, between 7pm and 7.15pm, a man claiming to be a police officer called on a 92-year-old man in Kingsway, Little Stoke. He kept the householder talking, claiming there had been a burglary, while a second suspect got in through a back door and stole cash. The caller was described as a white man in his 30s, about 5ft 6ins tall, wearing a smart jacket and with his face partially covered. The second suspect wasn't seen.
Similar incidents were reported on Tuesday in Brentry (where a 90-year-old woman was the victim) and Hillfields (targeting a 94-year-old woman).
Two further incidents were reported on Wednesday (19th December), one in Henleaze (where a 91-year-old woman was the victim) and the second in Bath (targeting a 71-year-old woman).
Full details of the other five incidents are available on the Avon and Somerset Police website.
Detective Sergeant Laura Miller said:
"Any genuine police officer will expect to show you identification and to wait while you call 101 to verify it, if you're unsure. We've carried out house-to-house enquiries and issued an alert through Neighbourhood Watch. This sort of doorstep crime is quite rare. However it can be very distressing for vulnerable older people and we're targeting our patrols in the area to provide reassurance."

"Please make your family or friends aware of these incidents and talk to them about the simple steps they can take to deter these criminals. If you see someone acting suspiciously at a neighbour's property, call us straight away. Ring 999 if a crime is being committed, otherwise call 101."
If you have any information which could help the police investigation, get in touch through www.avonandsomerset.police.uk/contact, or by calling 101, quoting reference number 5218279290.
Doorstep crime prevention tips from Avon and Somerset Police:
Never open the door to an unexpected caller until you've checked their identification – use a door chain or viewer, intercom or a 'smart' doorbell
If you're not sure, don't open the door
If you are suspicious of a caller tell us straight away – ring 999 if you feel threatened or intimidated, otherwise call 101
Keep your cash in the bank, not at home
Keep windows and doors secured if you're not in the room
If you see someone calling door-to-door, but only on frail or elderly neighbours, call 999 straight away
Join Neighbourhood Watch
Nominate a neighbour to help you deal with unexpected callers
Photo: View looking north up Kingsway from Gifford Crescent.