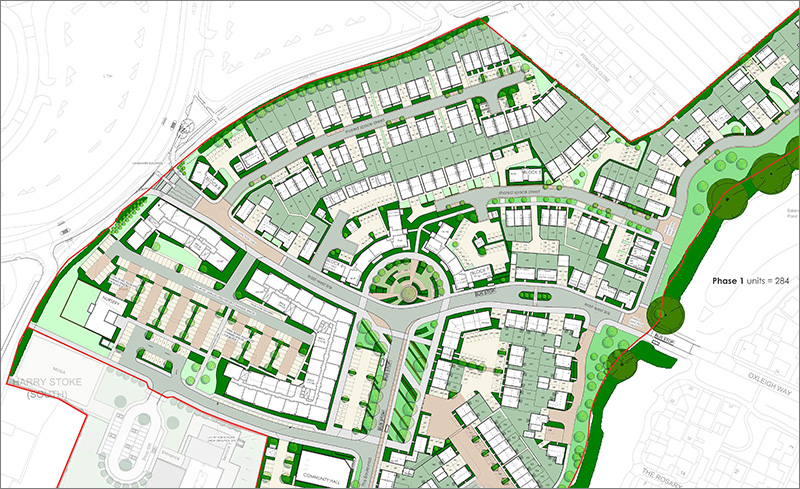 Local councillors and residents say they still have major concerns over recent amendments to a detailed planning application to build 763 new homes on land east of Harry Stoke Road.
Housebuilder Crest Nicholson, which recently acquired the land, held an information session in Stoke Gifford on 5th February, at which visitors were told that further revised plans are due to be submitted soon.
Stoke Gifford Parish Council said it aimed to formulate a response to the application at its planning meeting on Tuesday 26th February, but as we went to press there were doubts as to whether the latest batch of updated plans would be made available in time.
A Crest Nicholson spokesperson said:
"We are pleased with the outcome of our information session with the local community and continue to work closely with Stoke Gifford Parish Council and South Gloucestershire Council. We are in the process of revising our plans to submit to the council and intend to attend the next parish council meeting on Tuesday 26th February."
A South Gloucestershire Council spokesperson said:
"Our planning officers spoke with Crest Nicholson's representatives on 21st February and were informed that a set of amended plans would be submitted early in the week commencing Monday 25th February. The plans will be publicised in the usual way and residents will have the opportunity to comment as part of the publicity process. The publicity period for amended plans is normally seven days."
Concerned local residents in the area around Harry Stoke Road have formed an action group and set up a website at www.harrystoke.org and a Facebook page named 'Harry Stoke Development Action Group'.
• Planning ref: PT17/5810/RM
Images – Top: Extract from planning layout. Above: Site location plan.
This article originally appeared in the March 2019 issue of the Stoke Gifford Journal news magazine (on page 4). The magazine is delivered FREE, EVERY MONTH, to over 5,000 homes in Stoke Gifford, Little Stoke and Harry Stoke. Phone 01454 300 400 to enquire about advertising or leaflet insertion.
Update (5th March 2019)
A large number of new documents relating to this planning application appeared on the SGC planning portal on 27th February 2019.
A message posted on the Harry Stoke Development Action Group page on Facebook on 1st March 2019 reads:
"Updated plans have been submitted to South Glos with some minor amendments made. However, the main issues remain with the lack of a rural edge and the tall apartments at the top of the site instead of at the bottom."