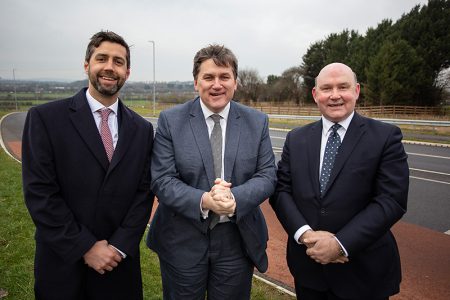 The government's housing minister Kit Malthouse paid a flying visit to the Stokes on 31st January as part of a trip to the West of England Combined Authority (Weca) area to view sites where new homes are being built, or are planned.
Accompanied by Tim Bowles, regional mayor, and Cllr Toby Savage, leader of South Gloucestershire Council, he visited the site of the East of Harry Stoke New Neighbourhood where 2,000 homes are planned on land that is currently open countryside either side of the new Stoke Gifford By-Pass.
The minister's schedule also included visits to development sites at Bath Riverside and the Bristol Temple Meads to Keynsham corridor (part of the region's bid into the government's Housing Infrastructure Fund).
He also held talks with Weca members to discuss calls for further government support towards delivering new homes.
Mr Malthouse, said:
"We've had a cracking day on a tour of ambition in an area of the country which is crying out for new housing and is well-served by its civic leaders, who have come together to deliver what the next generation needs."
West of England mayor Tim Bowles, said:
"It was good to meet the housing minister and show him some of the sites where we are building or planning to build new homes. It was a great opportunity to promote our region's growing reputation for innovative, inclusive, green and sustainable housing developments."

"The combined authority is working closely with the government to secure further investment for new homes in the West of England. We know that we need more homes, to buy and rent – homes where they are needed at prices people can afford."
"We also need to ensure that we have great transport links, schools, and broadband. Continued support from the government will help us to work with our constituent councils, and North Somerset Council, to build homes and communities that are well-connected – using our regional knowledge to deliver what we need."
Cllr Toby Savage, leader of South Gloucestershire Council, said:
"I am pleased that the minister was able to see what plan-led development can do to meet the future housing and growth needs for our region. In South Gloucestershire, we are committed to sustainable growth and to delivering the new homes, opportunities for employment and with connected infrastructure that delivers on our promise to be a great place to live and work."
In addition to the 2,000 new homes planned for the East of Harry Stoke New Neighbourhood, outline planning permission dating back to 2007 exists for a further 1,026 new homes on land closer to Harry Stoke. Two reserved matters planning applications are awaiting determination in relation to the latter (see the recent post 'Councillors and residents await revised plans for 763 homes at Harry Stoke' about one of these).
More information:
Photo (l-r): Cllr Toby Savage (SGC), Kit Malthouse and Tim Bowles (regional mayor).
This article originally appeared in the March 2019 issue of the Stoke Gifford Journal news magazine (on pages 4 & 5). The magazine is delivered FREE, EVERY MONTH, to over 5,000 homes in Stoke Gifford, Little Stoke and Harry Stoke. Phone 01454 300 400 to enquire about advertising or leaflet insertion.