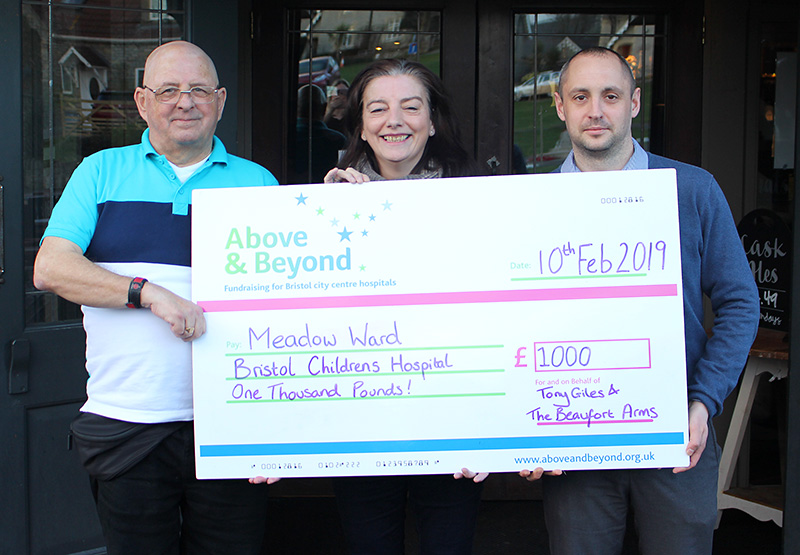 In the January issue of the Stoke Gifford Journal, we saw local resident Tony Giles hand over a cheque for £2,000 to the charity Above and Beyond, who raise vital funds for hospitals in the centre of Bristol. This month, Tony has already reached his next target of raising another £1,000 for the charity.
On Sunday 10th February, at the Beaufort Arms in Stoke Gifford, a cheque was presented to Above and Beyond for the Meadow Ward at Bristol Children's Hospital. The Meadow Ward is a surgical ward and the money raised will be used to purchase new play equipment for the children to use both before and after their surgeries.
Speaking after the cheque presentation, Tony said:
"There was a really good turnout for the presentation of the £1,000 and I am really happy that we have reached the target already. I have received lots of positive feedback which makes it all worthwhile."
Lydia McGivern, who accepted the cheque on behalf of the charity, said:
"We are so grateful to Tony and everyone at the Beaufort Arms for their amazing support. In the last three years they have raised over £5,000 for Bristol city centre hospitals, supporting areas including bowel cancer research, children's cardiac services and children's cancer services. This donation will go to Meadow Ward, the day case surgical unit at Bristol Royal Hospital for Children, where young patients prepare for surgery. This can be a frightening time, and the support of the Beaufort Arms will help to make the ward as comfortable as possible."
Even though the £1,000 cheque has only just been presented, Tony is already thinking about his next target which is to raise money for training guide dogs for the blind. To help Tony with his fundraising, why not pop into the Beaufort Arms on a Sunday afternoon for the meat raffle or to enjoy a game of 'higher or lower'?
Photo: Cheque presentation (l-r): Tony Giles, Lorna and Jim Carey (manager of the Beaufort Arms).
This article originally appeared in the March 2019 issue of the Stoke Gifford Journal magazine (on page 19). The magazine is delivered FREE, EVERY MONTH, to over 5,000 homes in Stoke Gifford, Little Stoke and Harry Stoke. Phone 01454 300 400 to enquire about advertising or leaflet insertion.