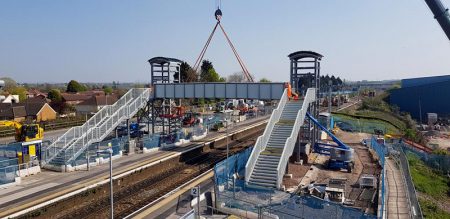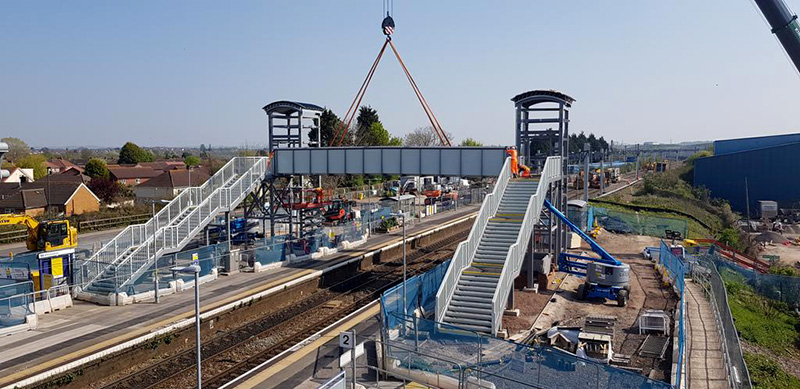 The deck of a new accessible footbridge at Patchway Station was hoisted into position by a giant crane over the Easter weekend, during a four-day closure of the railway.
The previous footbridge needed to be replaced because it had insufficient clearance from the new overhead wires which are being installed as part of the multi-billion pound Great Western Mainline (GWML) electrification programme.
The new footbridge will be fully accessible for wheelchair users as it will incorporate lifts at each end, the shafts for which can be seen in the photo (above).
A temporary footbridge was installed at the station last year, allowing it to continue to function while the old bridge was being dismantled and the new one installed.
The design of the new bridge has resulted in the loss of one of three existing disabled parking spaces at the station. Officers at South Gloucestershire Council deemed this to be acceptable as it is "more than offset by the improvements to overall accessibility through the provision of lifts".
Network Rail has said the new footbridge will be open for passengers "by the summer".
Other work carried out during the Easter closure included the installation of more overhead wires between Patchway and the Severn Tunnel, along with drainage and wiring work inside the two Patchway tunnels.
Further weekend engineering works are planned on the line between June and October.
More information and related links:
Photo: The deck of the new bridge is lifted into position by a crane. [Credit: Network Rail]
This article originally appeared in the May 2019 issue of the Stoke Gifford Journal magazine (on page 27). The magazine is delivered FREE, EVERY MONTH, to over 5,000 homes in Stoke Gifford, Little Stoke and Harry Stoke. Phone 01454 300 400 to enquire about advertising or leaflet insertion.