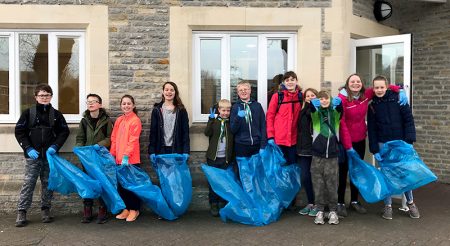 Sunday 31st March saw 14 members of the local Scout Group and five adults giving up part of their weekend to help tidy up some of the parks in Stoke Gifford. With equipment such as bags and litter pickers provided by South Gloucestershire Council, they made their way around the village, making it a cleaner and nicer place to live and visit.
Starting at The Old School Rooms, they walked up to the Poplar Rooms park, where they collected three large bin bags full of litter as well as a car wheel with tyre. The rubbish was then left tied up at the car park entrance, ready to be collected by the StreetCare department.
As soon as the Poplar Rooms park was looking clean and tidy, the Scouts made their way down to Meade Park, picking up litter en route. Once at the park, they filled a further six large bags with rubbish and even found a large carpet!
After a short break for lunch, the Scouts continued their hard work by planting 78 saplings in the park with help from Jenny James, chair of the Friends of Meade Park group, who showed them where they needed to go.
Scout troop leader Andrew Phelps said:
"We would like to thank the Woodland Trust who provided us with the saplings. They are going to make such a difference in the park."
The Scouts still have more saplings which will be planted at a later date in Forty Acres, with help from their conservation group at a later date. After a day of hard work, the Scouts headed back to The Old School Rooms at about 2pm to spend the rest of Mothering Sunday with their families.
Describing the day, Andrew said:
"The Scouts had fun litter picking and received several lovely comments from dog walkers and park users saying we were doing a great job. It is always good to give back to our community and the Old School Rooms troop regularly give up their time to do this."
Now that the Scouts have shown their hard work and commitment, Jenny has asked if the troop can help with future voluntary work at Meade Park, including the planting of a 4ft oak tree which has been donated by a local resident, and doing some nature trails which will also form part of their badge work. She said:
"This was the first joint event with the Scouts and we look forward to further co-operative events including tree planting and a series of educational tree walks in the park over the summer and autumn periods."
To find out more about the Friends of Meade Park visit their Facebook page or email Jenny at friendsofmeadepark@gmail.com
See also: 1st Stoke Gifford Scouts
Photos: 1 Scouts gathered outside The Old Schools Rooms prior to the start of their litter-picking walk. 2 Scouts plant saplings in Meade Park, under the supervision of Jenny James of the Friends group (2nd from right).
This article originally appeared in the May 2019 issue of the Stoke Gifford Journal magazine (on page 21). The magazine is delivered FREE, EVERY MONTH, to over 5,000 homes in Stoke Gifford, Little Stoke and Harry Stoke. Phone 01454 300 400 to enquire about advertising or leaflet insertion.