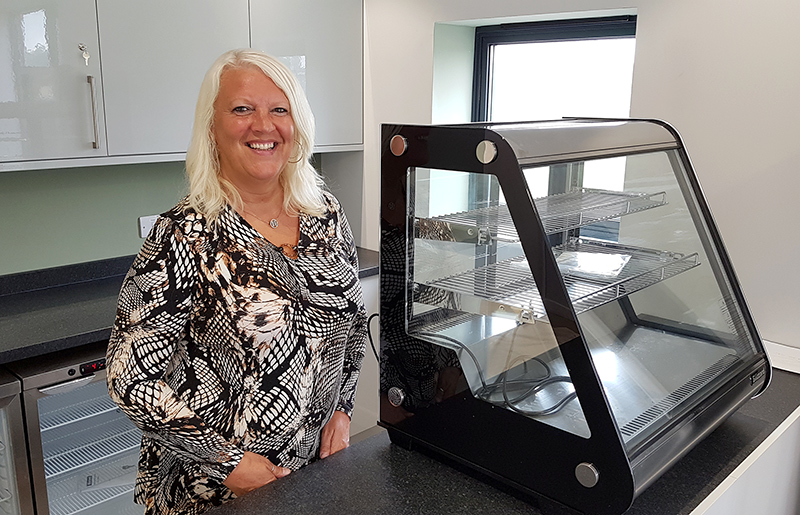 The operator of a new café that is set to open soon within the confines of Little Stoke Park says she is planning to offer a "really great facility for the local community".
Hayley Mannion, who lives just across the road from the park, says she had previously approached the parish council about operating a refreshment kiosk at the site. However, when the opportunity arose to take on a purpose-built café space within the recently extended Little Stoke Community Hall, she jumped at the chance to put in a bid for a larger-scale facility.
As we went to press, the fitting out of the new Little Stoke Community Café was being completed, ready for a Grand Opening event between 12pm and 5pm on Saturday 20th July.
Hayley has a wealth of experience in the catering trade, having worked in the café at Wild Place for two years and, more recently, at Café Nest within the Mothercare store at Cribbs Causeway.
The new café will have a children's area within its large indoor space and, in fine weather, tables will be placed on an outdoor terrace. There are also plans to have guest craft stalls displaying their products from time to time within the café.
The venue has underfloor heating and offers free wifi. Toilets and baby changing facilities are available within
the community hall building.
Arrangements are already in place for local cakemakers to supply the new café and a local baker is being sought to provide bread supplies.
Hayley hopes the café will appeal to a wide range of users, from early morning dog walkers to parents and toddlers visiting the park in the morning and early afternoon. She adds: "It will be somewhere that local residents can walk to instead of having to drive to Costa!"
The café's normal opening hours will be 8am to 3pm, Tuesday to Sunday.
• Find out more at 'Little Stoke Community Café' on Facebook.
This article originally appeared in the July/August 2019 issue of the Stoke Gifford Journal magazine (on page 29). The magazine is delivered FREE, EVERY MONTH, to over 5,000 homes in Stoke Gifford, Little Stoke and Harry Stoke. Phone 01454 300 400 to enquire about advertising or leaflet insertion.