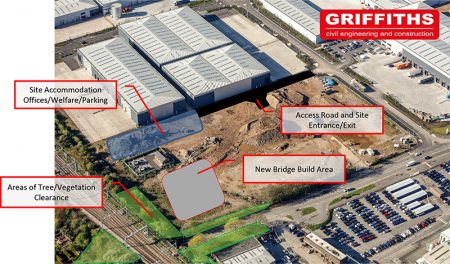 Roadworks are due to begin on Gipsy Patch Lane from Monday 2nd September in preparation for construction work to replace the Victorian era railway bridge and widen the road as part of the Cribbs Patchway MetroBus Extension (CPME).
The September roadworks, which will involve the use of three-way traffic lights at the railway bridge, follow a four-week full closure of the road in June 2019, which was required to allow BT to divert underground services ahead of the main project commencing in August.
Network Rail's contractors Alun Griffiths duly commenced work at the site on Friday 9th August and they have already carried out some vegetation clearance along the railway corridor near the bridge. Ground preparations have also been carried out within the designated site compound area within the Horizon Business Park immediately south west of the bridge.
Following reports in the press that one business, Tyres Direct, saw a 40 percent drop in takings during the June road closure, South Gloucestershire Council (SGC) is emphasising that all businesses in and around Gipsy Patch Lane will be open as usual during this latest phase of work.
Work due to take place from September will include:
Continuing work on establishing a construction site in the Horizon 38 Business Park next to the railway bridge. This is where the new bridge will be constructed before it is moved into position over Easter 2020
Further clearance of trees and shrubs will take place around the existing bridge, including the removal of the large trees outside the Pegasus Park business area
Preparation for foundation work at the four corners of the new bridge and the installation of dropped kerbs for temporary pedestrian crossing points on Gipsy Patch Lane
Piling works will need to be carried out from October to construct foundations for the new bridge.
To assist the work, a number of traffic management measures will be in use, including Stop/Go signs and temporary traffic lights.
From Monday 2nd September, temporary three-way traffic lights will be in operation on Gipsy Patch Lane at the railway bridge. These will be in place for up to two weeks.
After this period, automated Stop/Go boards will be used as needed on Gipsy Patch Lane. These will only be used when workers and machinery from the construction site need to safely cross Gipsy Patch Lane and their use will be kept to a minimum and as far as possible will be kept to off-peak times.
SGC's Cabinet member for transport Cllr Steve Reade said:
"We are pleased to see this vital transport project get started. The CPME will deliver a new high quality express bus service, as well as improving cycling and pedestrian facilities and helping to reduce traffic and congestion."
A council spokesperson added:
"We understand that this work will have a major impact on traffic in the nearby and wider area. We apologise in advance for this inconvenience and would like to assure everyone that we are doing everything we can to minimise disruption to residents, businesses and road users."
For the latest information on the Gipsy Patch Lane road closure and the CPME project more widely, visit SGC's dedicated webpage at www.southglos.gov.uk/CPmetrobus
The Stoke Gifford Journal also maintains a dedicated 'MetroBus Extension Build' webpage.


Top image: Overview of the site compound area that is currently being set out on part of the Horizon 38 development. The railway bridge is in the lower left corner of the image. Source: Presentation made by Griffiths in July 2019.
Your questions answered
We asked SGC to provide answers to a few questions posed by readers on the Journal's Facebook page…
Why couldn't the work necessitating the three-way traffic lights in September have been done during the school holidays in August when traffic is lighter?
The replacement of the railway bridge on Gipsy Patch Lane is a significant engineering project that requires months of preparatory work, which cannot be limited to school holidays. We are working to minimise the disruption as much as possible and apologise for any inconvenience caused.
Will the three-way traffic lights in September operate 24/7 (including weekends) or only during site working hours?
The three-way temporary traffic lights will only operate Monday to Friday during off-peak hours. They will also be manually controlled so can be adjusted with immediate effect to suit demand during the day.
Will pedestrians be able to pass under the bridge during the operation of three-way lights in September?
Yes, pedestrians and cyclists will be able to pass under the railway bridge. However, cyclists may be asked to dismount.
This article originally appeared in the September 2019 issue of the Stoke Gifford Journal magazine (on pages 16 & 17). The magazine is delivered FREE, EVERY MONTH, to over 5,000 homes in Stoke Gifford, Little Stoke and Harry Stoke. Phone 01454 300 400 to enquire about advertising or leaflet insertion.