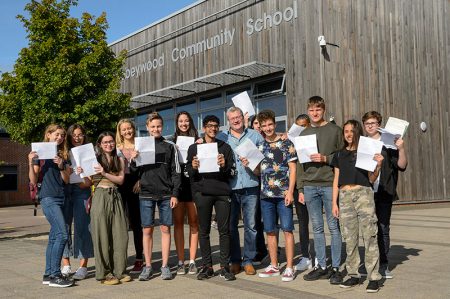 Abbeywood Community School (ACS) students are celebrating their GCSE results, which are said to show a strong trend of improvement for the school in all key performance measures.
Overall, students have achieved better progress than the national average, with over two-thirds achieving a standard (grade 4) pass in both English and maths.
In addition to the featured high-attaining students (see below), many others have made significant progress (measured in comparison to attainment in Year 6 SATs). Students identified by the school as being worthy of particular mention for their progress are:
Lies Dunn
Arielle Toko-Yaleu
Brad Pickford
Annabelle Thomas
Safira Taplin
Anish Kataria
Freddie Collins
Megan Eyres
Ella Goodman
Rosie Henson
ACS headteacher Dave Howe commented:
"We are absolutely delighted with these GCSE results and extremely proud of our students. Central to our school values is equipping our students with the belief that there is no limit to what they can achieve, and this is reflected in these excellent results. These strong exam outcomes represent a huge amount of hard work and I pay tribute to our amazing staff and wonderful students. I would also like to sincerely thank all our parents and carers for their belief and support, as the relationship between home and school is key to the success we are all celebrating today."
Richard Bendry, Key Stage 4 leader, added:
"I am very proud of our students who have risen to the challenge of being resilient and highly engaged learners. These results reflect the hard work by students, staff and parents and they set our students up for a successful future where they can begin to turn their aspirations into reality."
Olympus Academy Trust CEO Dave Baker said:
"It's great to see so many of this Abbeywood cohort achieve so well. Many have achieved the higher new number grades, which sets them up very well for their future study and work next year and beyond. Well done to the colleagues from across the trust who have collaborated so effectively to support each other and ultimately our students."
Outstanding individual performances
Jasmine Ajaz 9Gr9, 1A*Dist
Charlie Dell 3Gr9, 2Gr8, 4Gr7
William Lambern 6Gr9, 1Gr8, 2Gr7, 1A*
Bahira Malak 8Gr9, 1Gr8, 1A*
William March 3Gr9, 4Gr7, 1A
Michaela Stutt 7Gr9, 1Gr8, 1Gr7
Daniella Sakota 7Gr9, 2Gr8
Samaram Mansfield-Njie 4Gr9, 2Gr8, 3Gr7, 1A*
Aditya Putravu 4Gr9, 1A*, 3Gr8, 2Gr7, 1A*Dist
Natalie Williams 6Gr9, 2Gr8, 1Gr7
This article originally appeared in the September 2019 issue of the Stoke Gifford Journal magazine (on page 19). The magazine is delivered FREE, EVERY MONTH, to over 5,000 homes in Stoke Gifford, Little Stoke and Harry Stoke. Phone 01454 300 400 to enquire about advertising or leaflet insertion.