Posted on Wednesday 9th October 2019 at 8:48 pm by SH (Editor)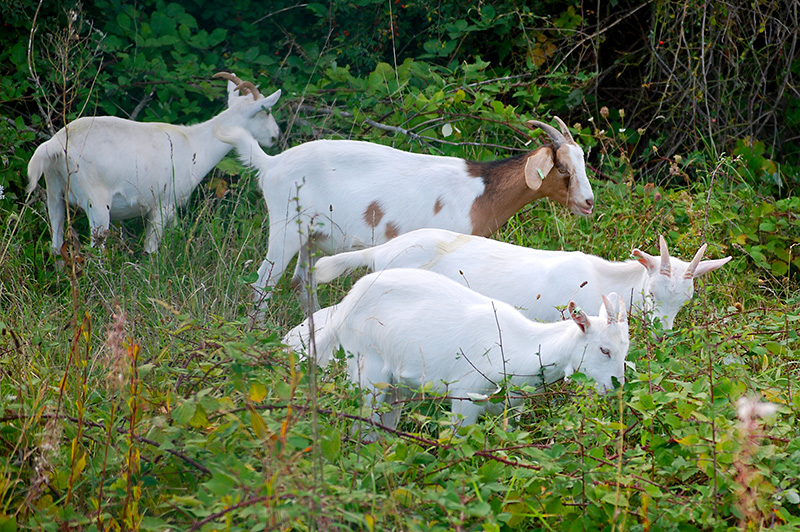 A herd of goats, that were until recently munching their way through brambles around the old gun emplacements on Purdown (Stoke Park), has taken up residence at a site near Bristol Parkway railway station.
The animals, managed by community urban farming group Street Goat, have returned to scrubland alongside the Parkway Park & Ride facility in Hunts Ground Road.
They are being deployed as part of a 'conservation grazing' initiative which aims to restore grassland and encourage the growth of wildflowers on sites that are important for wildlife.
The aim of the grazing at Parkway is to increase the population of the small blue butterfly (cupido minimus), which is classified as a 'priority species' in the UK Biodiversity Action Plan. This species of butterfly feeds solely on a wildflower called kidney vetch which grows at this location.
With the goats clearing the brambles and shrubs, this makes way for more kidney vetch to grow, which will then hopefully increase the numbers of small blue butterflies.
As previously reported, Street Goat first introduced goats to the Parkway site in January 2018. They were subsequently transferred to Goblin Coombe in the spring but made a second visit to Parkway in the summer.
The goats are very friendly and members of the public are more than welcome to visit them, although Street Goat requests that you don't feed them as they have sufficient natural food to keep them healthy.
The animals are expected to be at the Parkway Park & Ride site until December or January.
Anyone interested in becoming a volunteer goat herder, which involves helping to monitor the goats and reporting any issues to Street Goat, is invited to get in touch via their website: www.streetgoat.co.uk
Photos – Top: Goats grazing on brambles. Above: Resting in a shelter.
Above: Map showing location where the goats are grazing at the Parkway Park & Ride site on Hunts Ground Road. [Click on icon on top right to view full screen]
This article originally appeared in the October 2019 issue of the Stoke Gifford Journal magazine (on page 13). The magazine is delivered FREE, EVERY MONTH, to over 5,000 homes in Stoke Gifford, Little Stoke and Harry Stoke. Phone 01454 300 400 to enquire about advertising or leaflet insertion.
Share this article:
Tags: goats, StreetGoats