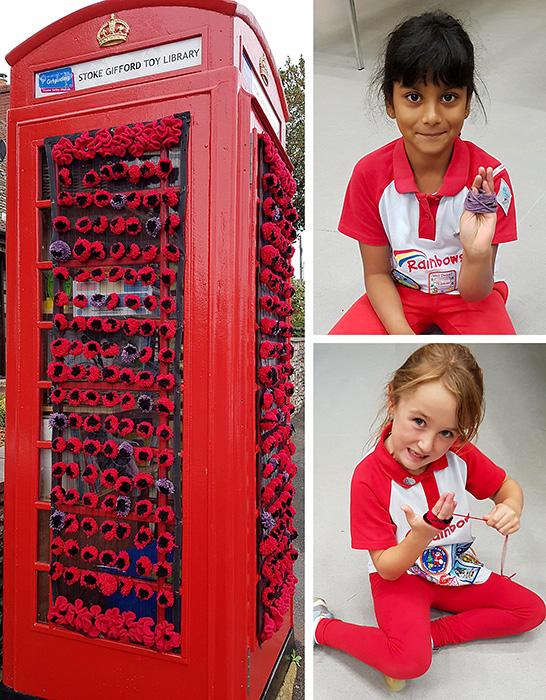 The 2nd Stoke Gifford Rainbow Unit have been putting the finishing touches to their Armistice Day tribute. The Rainbows have been getting crafty and have made hundreds of pom poms in red & black and purple & black in order to honour the fallen soldiers and animals.
The pom poms will be used to adorn the Stoke Gifford Toy Library, both inside and out and will be in place ready for the Stoke Gifford Remembrance Day parade (details below).
The photo above shows a trial run of the external decorations; these will be reinstated on the day of the parade.
Poppy decorations inside the toy library will be installed on 1st November.
Stoke Gifford Remembrance parade
Sunday 10th November: Ceremony at the cenotaph, North Road, BS34 8PB at 10.15am followed by church services at the St Michael's Centre (immediately after) and Rock Lane Baptist Church (11am).
This article originally appeared in the November/December 2019 issue of the Stoke Gifford Journal magazine (on page 14). The magazine is delivered FREE, EVERY MONTH, to over 5,000 homes in Stoke Gifford, Little Stoke and Harry Stoke. Phone 01454 300 400 to enquire about advertising or leaflet insertion.