Posted on Friday 6th December 2019 at 7:07 pm by SH (Editor)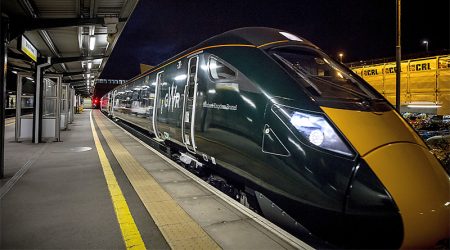 Additional train services will help reduce the fastest journey times between Bristol Parkway and London Paddington to just 68 minutes when GWR introduces its first wholesale timetable change since the 1970s from Sunday 15th December.
GWR's Intercity Express Trains (IETs) will take advantage of infrastructure improvements to run to a fully electric timetable between Bristol and London for the first time.
Two additional 'super-fast' services in the morning and evening peaks will operate from South Wales to Bristol Parkway and then direct (non-stop) into London Paddington, giving three trains an hour on the route at these peak times. Consequently, customers will need to be aware that, unlike at present, not all London-bound services will call at Swindon and Reading.
GWR says it plans to extend these extra peak time trains to operate throughout the day from May 2020.
The fastest journey times between Bristol Temple Meads and London Paddington will similarly be cut to 1 hour 19 minutes, 17 minutes faster than is possible today.
One downside is that there will be fewer off-peak trains between Bristol Parkway and Filton Abbey Wood once the new timetable comes into operation.
Regular users of all GWR's train services are being advised to check their new journey times ahead of the timetable change as around three-quarters of journey times will be different from how they are today.
Improvements carried out at Bristol Parkway Station in support of the introduction of the new trains and timetable have included the opening of a new (fourth) platform and extending the length of the three existing platforms.
West of England mayor Tim Bowles said:
"This is great news for the West of England and will help people switch from cars to public transport, reducing congestion and improving the air we breathe. The new timetable will support the new rail services we have planned across the region through MetroWest and it's great to see even more investment in both track and train."
More information: Timetable changes 2019 (GWR)
This article originally appeared in the November/December 2019 issue of the Bradley Stoke Journal magazine (on page 29). The magazine is delivered FREE, EVERY MONTH (except August), to ALL 8,700 homes in Bradley Stoke. Phone 01454 300 400 to enquire about advertising or leaflet insertion.
Share this article:
Tags: Bristol Parkway, railway