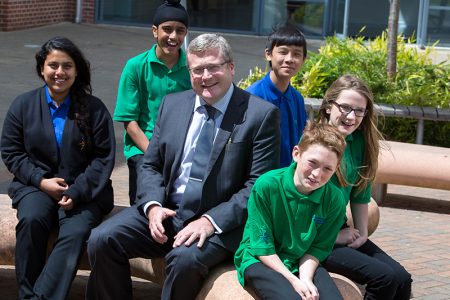 Staff, governors and students at Stoke Gifford's Abbeywood Community School are celebrating after receiving an overall 'good' grading from Ofsted following an inspection which took place on 19th & 20th November 2019.
The full 'Section 5' inspection judged the school 'good' in all five assessment areas, replicating the result of the school's last full inspection in October 2014 following its incorporation into the Olympus Academy Trust in January 2013.
In their report, the team of four inspectors observe that the trust, headteacher and school leaders are "ambitious to provide a high-quality education to all pupils," adding that "the values of the school are clear and underpin the school's management decisions".
The inspectors found that students are happy at the school, noting that: "They say that it feels safe and that people are kind to each other. Pupils are very positive about their school; they value it and like it."
Governors are praised for their role in driving the school forward. The inspectors noted that they are well informed and hold the headteacher and leaders to account. They also noted that governors visit the school, talk to pupils and survey staff.
Staff told inspectors they like working at the school and said they feel very well supported.
The Ofsted report adds: "Leaders are considerate of the workload of staff when developing new initiatives within the school and as a result there is a positive staff ethos."
Areas identified for improvement are bringing detailed curriculum planning to the same standard across all subject areas and encouraging students to ask for help when they are unsure in class.
Headteacher Dave Howe said:
"As always, the Ofsted inspection was an extremely thorough process and we are delighted that our happy, hard-working school has rightly been re-confirmed as a 'good' school in all areas. The Ofsted inspection was a positive and collaborative process and the inspectors were able to see our many strengths first-hand. I would like to pay tribute to all the incredible Abbeywood staff who remain utterly committed to ensuring our students receive the very best education and support every day. I would also like to thank Olympus Academy Trust for the continued support. We are proud to serve our community and we are equally proud to be the secondary school of first choice for so many in our local community."
Olympus Academy Trust CEO Dave Baker said:
"Headteacher Dave Howe and his team have worked hard to ensure that children at the school receive the best education that they can give and we are delighted that their progress and results have been duly recognised by Ofsted."
More info: Ofsted reports for Abbeywood Community School
This article originally appeared in the January 2020 issue of the Stoke Gifford Journal magazine (on page 22). The magazine is delivered FREE, nine times a year, to over 5,000 homes in Stoke Gifford, Little Stoke and Harry Stoke. Phone 01454 300 400 to enquire about advertising or leaflet insertion.