Posted on Wednesday 26th February 2020 at 5:51 pm by SH (Editor)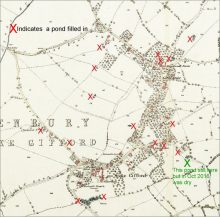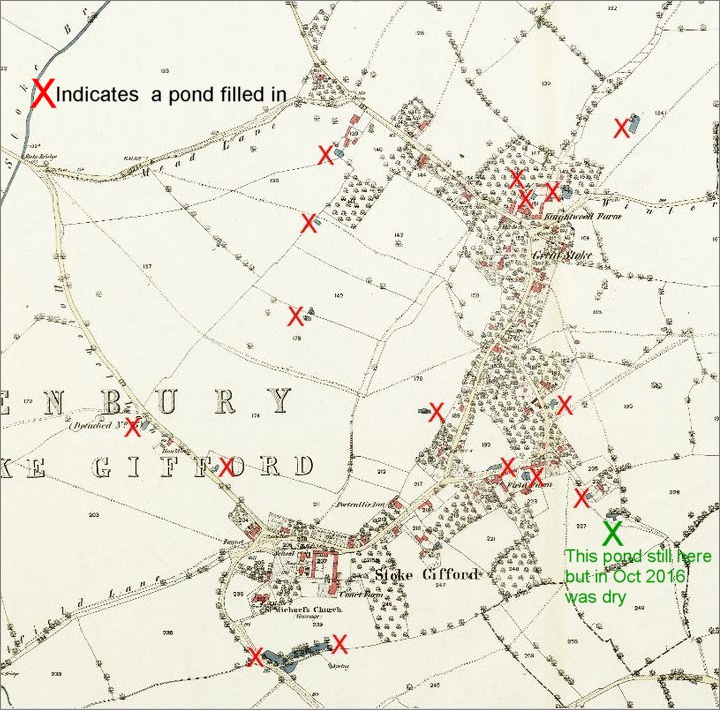 …asks local history enthusiast Adrian Kerton.
Conservationists are worried that the UK is losing much of its wildlife through loss of habitat and that certainly seems to be the case in Stoke Gifford 'village'. In the past, builders filled in inconvenient ponds, though today, the new Harry Stoke development has had to cater for the protected great crested newt colonies.
Rainfall used to fall on the fields around us and drained into the streams and ponds that had been established centuries ago. Now the acreage of open ground has been replaced by housing, so the rain now falls on roofs instead and is transported away through the drainage systems.
In 1985 an older lady enthused with me about the watercress that could be found in the stream that was fed by a spring at the bottom of Mead Road. The spring is now dry and the stream no longer flows. Luckily, some homeowners have established ponds, so some of our frogs still have a home.
Stoke Gifford has lost sixteen ponds since 1889. Some of these were quite substantial and unfortunately were deep enough for two poor souls to end their lives.
Today, only one of the old ponds survives, but in 2016 it was drying up and may well be gone by now. It isn't due to lack of rain. The Met Office rainfall data for England and Wales since 1766 shows no appreciable change. It seems to vary from year to year as it has always done.
Although some of these ponds and springs seem to be lost, there is evidence that they can still cause problems as one unlucky householder found when the foundations of a new extension started to sink into the ground. Although people who had lived along North Road all their lives hadn't known about it, the underground spring that caused the problems had been addressed by the farmer of the St Michael's school field on Ratcliffe Drive.
Aerial photos show the fishbone pattern of drainage pipes that were installed so the crops wouldn't be water logged.
It is possible the recent problems with the war memorial on The Green were caused by a lost spring. The 1889 map shows a well at the same place and in her history of Stoke Gifford, Ros Broomhead writes that's where the 'ducking pond' used to be.
So please put a pond in your garden and give a frog a good home!
• To find out more about the history of Stoke Gifford, visit Adrian's comprehensive website at stokegiffordhistory.wordpress.com
Image: Ponds lost in Stoke Gifford 'village' since 1889.
This article originally appeared in the February 2020 issue of the Stoke Gifford Journal magazine (on page 29). The magazine is delivered FREE, nine times a year, to over 5,000 homes in Stoke Gifford, Little Stoke and Harry Stoke. Phone 01454 300 400 to enquire about advertising or leaflet insertion.
Share this article:
Tags: history