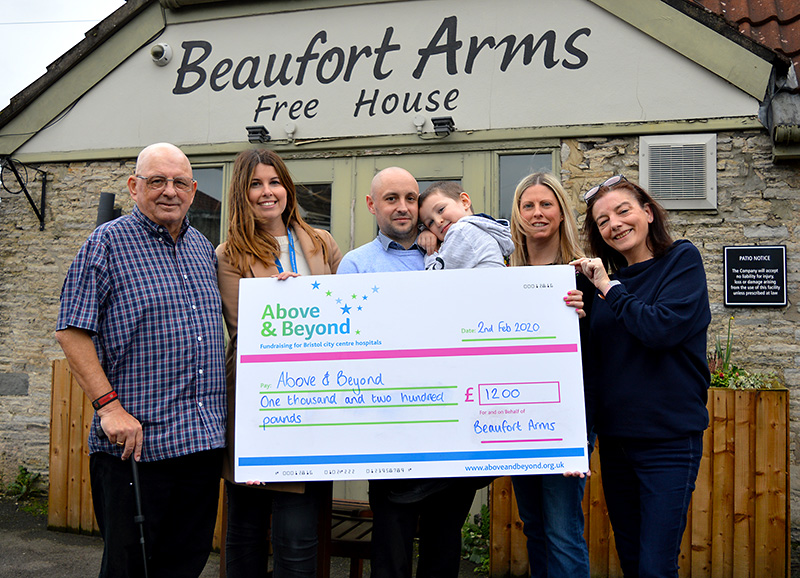 Patrons of Stoke Gifford's Beaufort Arms public house have made another generous donation to Above & Beyond, the fundraising charity which supports Bristol's city centre hospitals.
Their latest contribution of £1,200 has been specifically designated to assist in the support of children undergoing treatment for cleft lip and palate, a congenital abnormality very familiar to the pub's general manager, Jim Carey, whose son Joseph was born with the condition.
Now aged 5, Joseph had to undergo corrective surgery on his lip when just 5 months old, followed by an operation on his palate five months later. Further operations are planned for when he is between 8 and 10 years old, including one in which a bone graft will be taken from his hip.
Above: Joseph as a baby and how he looks today following several rounds of corrective surgery.
Jim and his wife Gemma have received extensive support from the Cleft Lip and Palate Association (CLAPA), a charity working to improve the lives of people born with a cleft, and their families, in the UK.
CLAPA has advised the family on topics ranging from speech therapy to psychological support.
Charity fundraising activities at the pub are led by Tony Giles, who for many years has staged a weekly 'meat raffle' in the pub at 3.30pm on Sunday afternoons. Further funds are raised through a 'higher or lower' card game which follows the raffle at around 4.15pm and from a lottery bonus ball competition.
Attending the charity cheque presentation event on 2nd February, Natalie Millbank, Above & Beyond's community partnerships fundraising officer, said:
"A huge thanks to Tony and everyone at the Beaufort Arms for all their fundraising efforts."

"When young patients go into hospital for cleft lip surgery, it can be a scary time for both them and their families. The money raised will make a real difference to these families, ensuring they have the best possible experience at Bristol's hospitals."
Pub manager Jim commented:
"My wife and I would like to thank everyone who has donated and continue to support the Beaufort Arms with our charity efforts. We would also like to personally give a massive thank you to Tony, his daughter Jayne and Lorna, who arrange this on a weekly basis to ensure these events still go ahead."
Main photo (l-r): Tony Giles (Beaufort Arms fundraising coordinator), Natalie Millbank (Above & Beyond fundraising officer), Jim Carey (Beaufort Arms general manager) with son Joseph, and pub customers Jayne & Lorna, who help Tony with fundraising activities.
This article originally appeared in the March 2020 issue of the Stoke Gifford Journal magazine (on page 19). The magazine is delivered FREE, nine times a year, to ALL 8,700 homes in Bradley Stoke. Phone 01454 300 400 to enquire about advertising or leaflet insertion.