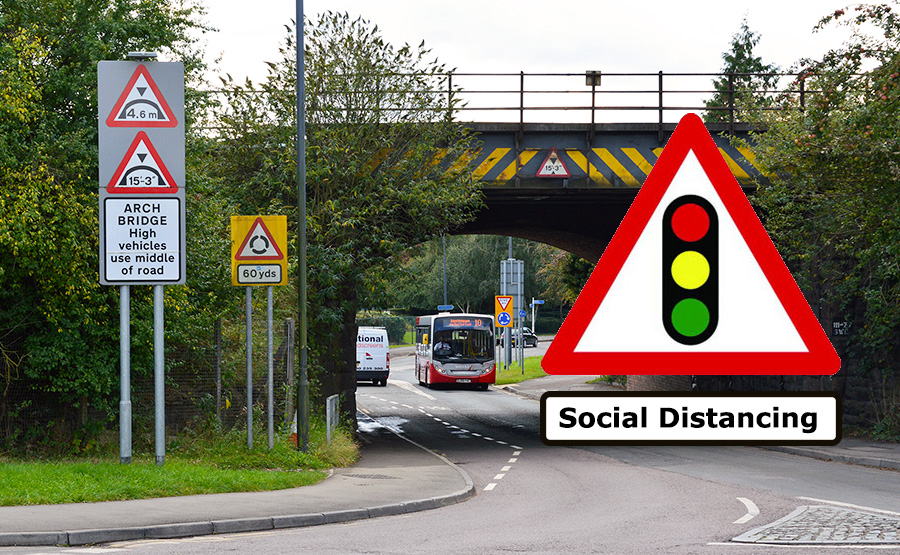 Temporary traffic signals are to be installed at Parkway railway bridge in order to facilitate easier social distancing for pedestrians and cyclists passing under the structure.
South Gloucestershire Council (SGC) says the move is necessary because the extremely narrow pavements under the bridge constitute a 'tight spot' for people walking or cycling to nearby education establishments and places of work.
With more year groups returning to school from Monday 15th June and increasing numbers of people returning to work as the Covid-19 (coronavirus) lockdown is eased, the council says there is an urgency to ensure footpaths and cycle routes are safe and can support social distancing.
The changes are to be implemented for a two-week trial period starting on Sunday 14th June.
Barriers will be used to create a single lane for traffic, controlled by temporary traffic signals. The extra space created either side of the lane will be designated for people walking or cycling under the bridge and allow them to keep a safe distance from each other.
Signs and road markings will be in place to notify road users of the new road layout and direct cyclists and pedestrians to use it safely and appropriately.
Due to the immediacy of the issue, the council says it has not been possible to follow its usual consultation procedures for a scheme of this size.
Emphasising that the road changes are a temporary measure in response to the Covid-19 emergency situation, a council spokesperson said:
"We are committed to developing a longer-term solution with stakeholders that provides safe access and/or additional facilities to divert pedestrians and cyclists away from the highway."

"We will be monitoring, recording and reviewing the changes as more people return to work, businesses re-open and pupils return to school."
The spokesperson added:
"We anticipate these changes may cause delays for traffic in the area. We apologise for any disruption; these measures are essential to help people stay safe and control the spread of the virus."
Cllr Steve Reade, SGC's Cabinet member for planning, transport and strategic environment, said:
"These changes are part of our emergency response to the Covid-19 pandemic in order to help stop the spread of the virus and save lives in our local communities as lockdown eases."

"The Council has a statutory duty to make it as easy as possible to follow rules for social distancing in public places and we are currently working on several projects to make public space safer for everyone. These projects will also help to maintain some of the positive changes seen during this time, such as an increase in cycling and fewer cars on our roads."

"We will be announcing additional projects across South Gloucestershire over the coming weeks, and due to the speed of their introduction they will be subject to regular constructive review."
Stoke Gifford ward councillor Brian Allinson has repeatedly called for a separate, parallel tunnel for pedestrians to be created through the railway embankment alongside the Parkway bridge, but funding for a scheme of this nature is yet to be found and its implementation likely to be years away.
News of the planned road restrictions at Parkway bridge comes less than a fortnight after a similar social distancing initiative involving lane closures on the nearby A4174 Ring Road either side of Filton railway bridge was abandoned after just four days due to widely expressed concerns about increased traffic congestion.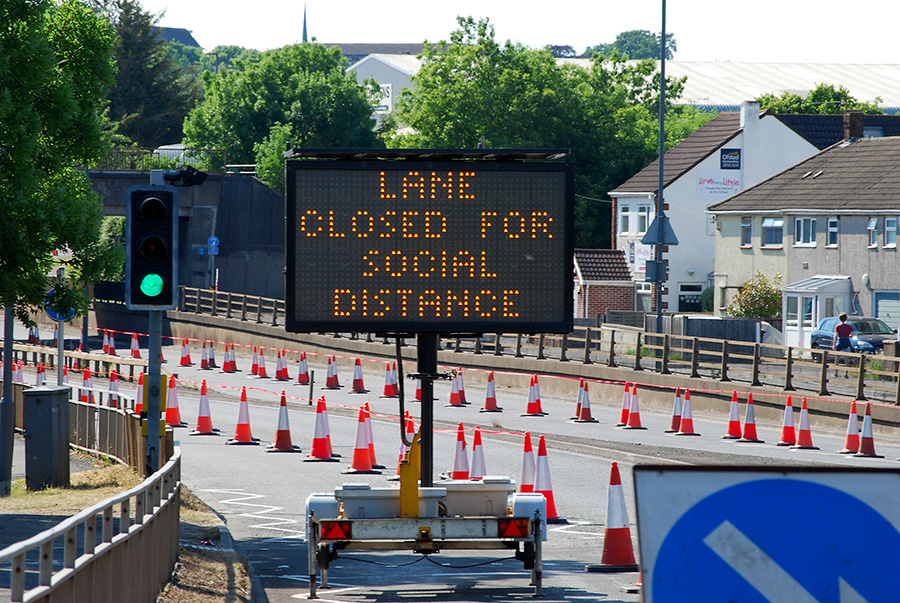 The Filton scheme was condemned by opposition councillors as being "poorly thought through" and having "inadequate signage" for the pedestrians and cyclists it was supposed to benefit.
Read more: Journal readers' views on the abandoned A4174 scheme (SGJ Facebook)
---
Update (11th June 2020)
The article was amended to include a comment from Cllr Steve Reade, SGC's Cabinet member for planning, transport and strategic environment.
---
Update (14th June 2020)
South Gloucestershire Council has published a Frequently Asked Questions (with answers) document [PDF] on the Parkway railway bridge scheme.