By Andrew Phelps, 1st Stoke Gifford Scouts.
We all know how front-line workers across the country are continuing to work through the coronavirus lockdown. But what isn't as well known is the army of sewers that are helping supply the essential workers with face masks and scrub bags, in order to make their lives a little easier.
After an appeal from the NHS for scrub bags, to put their dirty uniforms in to bring home and wash, Penny Hallett-Allen, a Stoke Gifford resident and member of St Michael's Church, agreed to co-ordinate the deliveries. That's when local Scout leader Ali Emsley rose to the challenge and made well over 200 bags, with help from her daughter Pip.
Some of the bags were personalised, and they were supplied to two doctor's surgeries, the community dentist, several ICU nurses and friends. Once Southmead Hospital had received enough, further bags went to care homes in the area.
One of the recipients, an ICU nurse, was so pleased at all the time and effort Ali had taken to make her four personalised scrub bags saying: "Thank you so much Ali, the bags are fabulous the last thing I feel like doing when I get home from a 12-hour shift having worn all the PPE is sort through my laundry, so the bags are great."
Once enough bags had been made, instead of sitting back and admiring her work, Ali moved on to face masks. Then again covering a doctor's surgery, colleagues and local residents.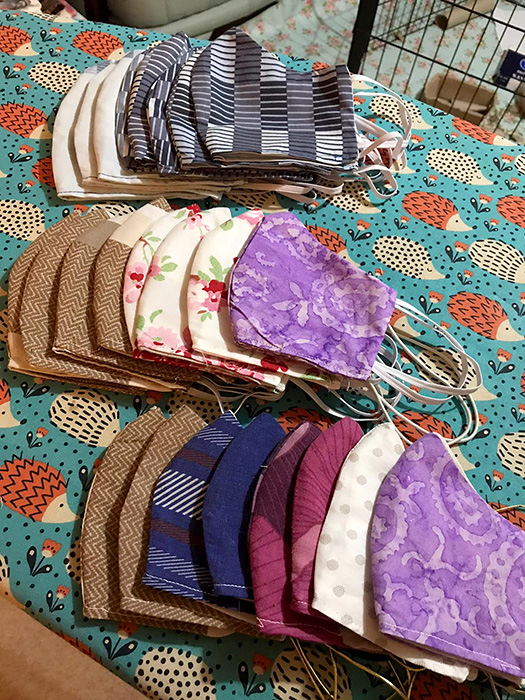 This was her way of helping to support the local community during the pandemic.
Ali said:
"My poor sewing machine has had to go in for a service as it has not been used this much for a long time, in preparation for the onslaught of face masks."

"I am only too thankful that my skill set has been put to good use."
This amazing amount of sewing is all on top of her full-time job and the volunteering work that she does.
The community in Stoke Gifford would all like to say a massive thank you to Ali and all the other sewers. You're all doing an amazing job.
This article originally appeared in the July/August 2020 issue of the Stoke Gifford Journal magazine (on page 28). The magazine is delivered FREE, nine times a year, to over 5,000 homes in Stoke Gifford, Little Stoke and Harry Stoke. Phone 01454 300 400 to enquire about advertising or leaflet insertion.