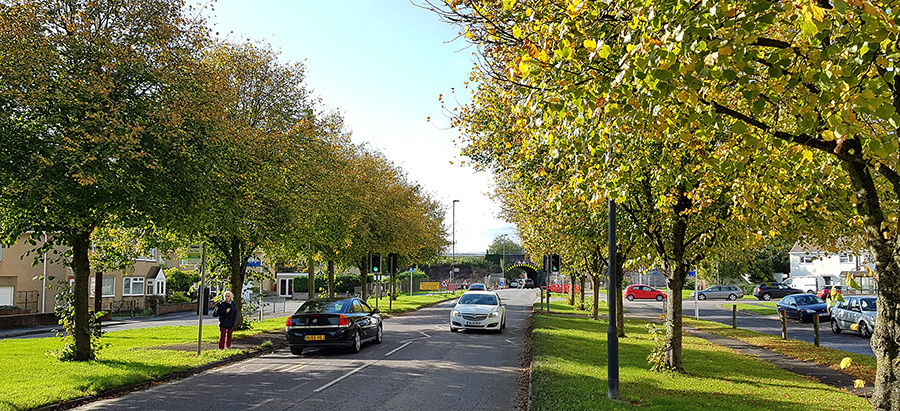 Responding to concerns over the planned felling of 20 mature trees alongside Gipsy Patch Lane to create space for a new bus lane, South Gloucestershire Council has recently dug a number of exploratory trenches in the roadside verge.
Road widening is needed east of the railway bridge on Gipsy Patch Lane to enable the creation of a new eastbound bus lane. To make way for the construction of the bus lane, the row of 20 existing lime trees on the south side of Gipsy Patch Lane needs to be removed. The timescale for removing the trees has not yet been confirmed but the council says it will be no earlier than autumn 2020. No trees are planned to be removed from the north side.

As reported in our September magazine, to mitigate for the upcoming loss of trees on Gipsy Patch Lane, the council has already planted 53 trees of various species at nearby locations along Winterbourne Road and Orpheus Avenue.
The project has also made a commitment to plant as many new trees and shrubs as possible along Gipsy Patch Lane itself, once construction is complete.
As part of its planning for the landscaping work, a number of trial trenches have recently been dug in the roadside verge immediately south of the line of trees that is to be removed.
A council spokesperson explained:
"One of the things that affects where planting can occur is the location of underground utilities. Although we have plans that show where utilities should be located, it is only when ground is dug that we can be sure of where they are."

"To assist us plan the planting we excavated around 18 trial trenches along Gipsy Patch Lane to help us confirm where the utilities are. This in turn will help us understand where new trees may be planted and to ensure there is no conflict between utility pipes and cables and tree roots."
More information and related links:
This article originally appeared in the October 2020 issue of the Stoke Gifford Journal magazine (on page 20). The magazine is delivered FREE, nine times a year, to over 5,000 homes in Stoke Gifford, Little Stoke and Harry Stoke. Phone 01454 300 400 to enquire about advertising or leaflet insertion.